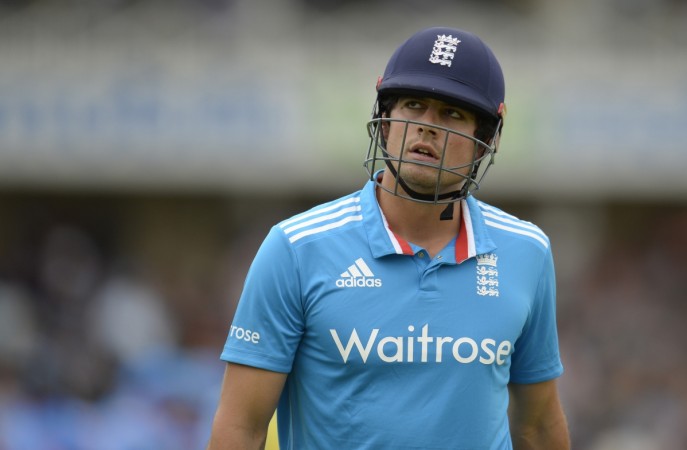 England skipper Alastair Cook is facing the heat again as his side slumped to their third straight loss in the ODI series against India on Tuesday.
England's poor form in ODIs continue as this defeat against India was their fifth in a row. Sri Lanka had beaten them earlier in an ODI series.
Cook's own form in ODIs has been far from satisfactory as well. He now has only one fifty in the last 11 games he played.
Several pundits are of the opinion that Cook is perhaps not suited for ODI cricket. Geoff Boycott, a former England opening batsman, reckons that Cook should not feature in England's ODI side. Boycott feels that other than Cook, middle-order batsmen Ian Bell and Joe Root are also ill-suited to this form of the game.
"England have gone into this series with three orthodox batsmen in our top four in Alastair Cook, Ian Bell and Joe Root. They are lovely technical batsmen for Test cricket but you should not have all three of them in your one-day team," Indian Express quoted the former English opener as saying.
Boycott also had a lot of criticism as to why England were all at sea in the ODI series against India.
"It is quite clear why England are struggling in one-day cricket at the moment: they cannot play the turning ball. We are playing the world champions, India, and we bat like chumps," he pointed out.
England come a cropper against spin-bowling as some fear prevents them from using their feet, according to Boycott. This was the case even on wickets that did afford huge turn and the game at Trent Bridge - where the Indian spinners took six wickets - was an example, he stated.
Former all-rounder Ian Botham was also of the opinion that England's form in ODI cricket left a lot to be desired, especially the slow scoring.
"We had batsmen not scoring and too many dot balls and we have three of the top four batters -- Cook, Ian Bell and Joe Root - all scoring at around the same pace, around mid-70s," NDTV Sport quoted him.
The England cricketing establishment time and again has been accused of not attaching a great deal of importance to ODI cricket. Boycott reckoned that England selectors had not gone about choosing the side the correct manner.
"They are guilty of selecting the ODI team on Test performances and central contracts, this is wrong thinking," he pointed out.