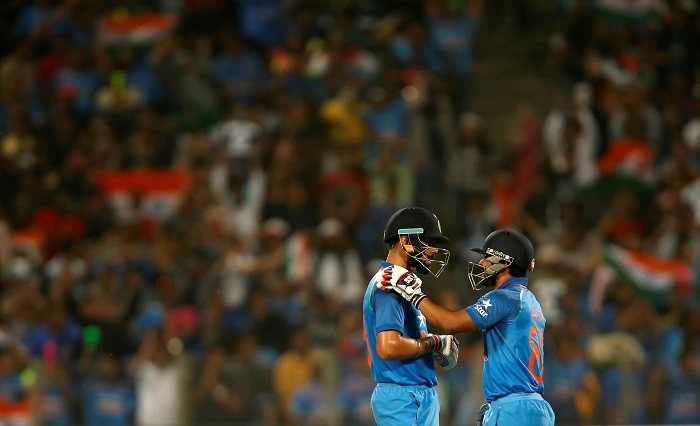 Virat Kohli did what Virat Kohli does best – score big in a chase – and after Kedar Jadhav decided to play the innings of his life, India pulled off a heist that will stay in the memory for a long time to top England in a high-scoring first one-day international at the MCA Stadium in Pune on Sunday.
With India in deep trouble at 63/4, chasing 351, Kohli (122, 105b, 8x4, 5x6) and Jadhav (120, 76b, 12x4, 4x6) forged a counter-attacking, the England-bowlers-do-not-know-what-hit-them 200-run partnership to help the home side seal the chase with all of 11 balls to spare.
Both Kohli and Jadhav struck centuries, and while the India captain's knock was one from never-ending chase drawer, it was the latter who really impressed, playing with the kind of intelligence and authority that he looked like a seasoned cricketer with 200 and more matches under his belt rather than one still trying to cement his place in the India team.
India got off to the worst start possible in such a big chase, losing their openers – Shikhar Dhawan and KL Rahul – early, before their two most experienced batsmen – Yuvraj Singh and MS Dhoni – also fell with very little of the target chased down.
At 63/4 in 11.5 overs the match looked done, even with Kohli still at the crease. But, the captain is someone who never throws in the towel, no matter what the situation and all he asked of Jadhav was to put on a decent partnership and see what can be done from there.
Well, Jadhav answered his captain's call, and then some, putting on a batting show in front of his home crowd that left even Kohli applauding and nodding his head in appreciation. The 31-year-old got to his hundred in just 65 balls, with that counter-attack along with Kohli, completely deflating the England bowlers.
Eoin Morgan, try as he might, looked to find a solution by changing his bowlers around, but the 200-run partnership in just under 25 overs knocked the stuffing out of them.
Kohli, surprisingly, fell without finishing off the chase, mistiming a shot off Ben Stokes in the 37th over and with Jadhav struggling with cramps at the time, there was still a sliver of hope for England.
However, while Jadhav holed out in the deep in the fifth ball of the 40th over, Hardik Pandya (40 n.o., 37b, 3x4, 1x6) made sure there would be no panic. With India needing a run a ball at that point, Pandya showed the kind of maturity and calm that bodes really well for India's future to take his team home, with a little bit of help from Ravindra Jadeja (13, 15b, 2x4) and R Ashwin (15 n.o., 10b, 1x6).
Earlier, England put on a strong show with the bat, with half-centuries from Jason Roy (73, 61b, 12x4), Joe Root (78, 95, 4x4, 1x6) and Ben Stokes (62, 40b, 2x4, 5x6) giving the India bowlers plenty to worry about.
England, though, could do little as Kohli and Jadhav decided to make this match their own.