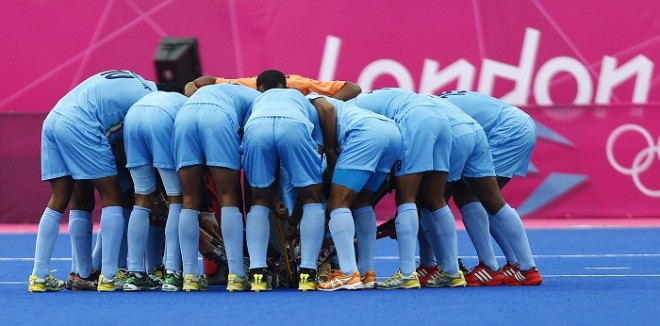 India have been mighty impressive in the ongoing Mens Hockey Champions Trophy 2016 , with one draw against Germany and a win against Great Britain in their first two matches. With strong performances under their belt, India will be keen to deliver once again as they face Belgium in an important encounter at the Lee Valley Hockey Centre in London on Monday.
India do not have the services of their talismanic midfielder, Sardar Singh, who has been rested, but goalkeeper PR Sreejesh has led the team from the front with some brilliant performances. The goalkeeper played an important role in their win against Great Britain.
Besides Sreejesh, other players like Mandeep Singh and Harmanpreet Singh have also performed for India, making them a formidable unit in the Mens Hockey Champions Trophy 2016, which comprises six top teams. India players seem to have found the rhythm, with all the players performing their duties splendidly well.
Despite a good start, India should not be over confident as Belgium are a strong team in the Mens Hockey Champions Trophy 2016. Belgium, who are a quality side, have not got their game right as they have only managed to pick one point so far, and will be keen to defeat India and climb up the standings.
Belgium lost to South Korea, but were involved in a thrilling 4-4 draw against Germany, which reflects their strong offensive unit, and India needs to be wary of the threat. Belgium have a poor overall head-to-head record, losing 37 times against India, but have been troubled by the Red Lions in the last few years with their quality display.
India coach Roelant Oltmans believes India need to play quality hockey to get three points from the match.
"Belgium will be a good challenge and the boys will have to play well again to get a positive result We are playing well and growing in strength, but need to make more out of our chances. We did well to bounce back strongly in our last outing against Great Britain," the Press Trust of India quoted Roelant Oltmans as saying.
Belgium also love to play an attacking game at pace, hence India defenders need to be on top of their toes to stop their forwards from scoring goals. India, meanwhile, will be keen to strengthen their position at the top with a win on Monday.
Where to watch live
India vs Belgium is scheduled for 8:30 p.m IST. Live TV coverage will be available for Indian viewers on Star Sports 2/HD, with live streaming on starsports.com.
Belgium viewers can watch Champions Trophy 2016 live on Telenet, while Singapore, Indonesia, Brunei, Thailand, Hong Kong, Laos, Cambodia, Bhutan, China, East Timor, Hong Kong, Macau, Mongolia, Myanmar, Papua New Guinea can watch the game on Fox Sports Asia.