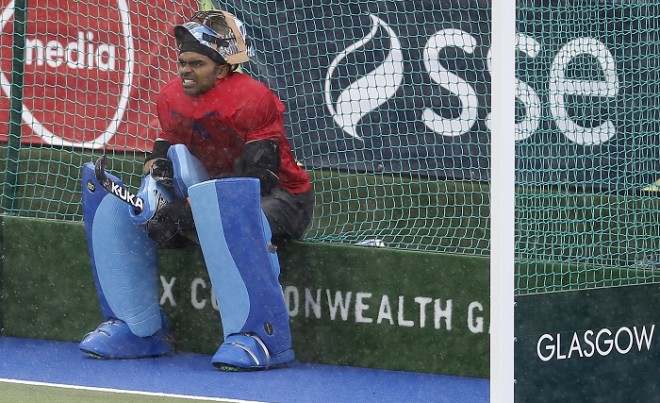 India might have looked good in the first two matches of Champions Trophy 2016, but they were disappointing against Belgium as they lost 2-1 in London on Monday. This was Belgium's first win of the competition as well.
Some of the India players did not enjoy a good day in the office, primarily their goalkeeper, PR Sreejesh, who let in two goals, which could have been saved. India's offensive players also could not shine against Belgium's zonal defence.
With two teams comprising of some brilliant players, one had expected an electric start to the game, but it did not happen as India and Belgium did not create much chances in the first quarter. Both the teams took a cautious approach in the quarter as they did not want to concede an early lead.
Belgium started the second quarter well and nearly scored, but India's Khadangbam Kothajit cleared the ball on the goal line in the 17th minute. India's defence has been strong in the competition, and it was the same against Belgium, who were finding it tough to score any goal. However, Belgium took lead as Alexander Hendrickx converted a penalty corner in the 25th minute.
India did not take much time to get back into the match as Devindar Walmiki scored a wonderful goal in the final minute of the first half.
India did not earn any penalty corner, which is their forte, in the first half, but got it early in the third quarter. VR Raghunath could not covert the penalty corner. Raghunath got one more chance to score as India received another penalty corner, but the Belgium goalkeeper denied the defender, who took the stroke despite in-form Harmanpreet Singh present on the field.
India looked a much better side in the third quarter as they enjoyed good possession, and threatened to score. However, it was Belgium, who scored their second as Jerome Truyens fired an important goal in the 44th minute, which Sreejesh could have saved.
With India trailing 2-1, they were required to score one goal to draw the score level, at least, in the final quarter. Despite some attempts from both the teams, India and Belgium failed to add to their goals tally.
With this loss, India lie third in the Champions Trophy standings.