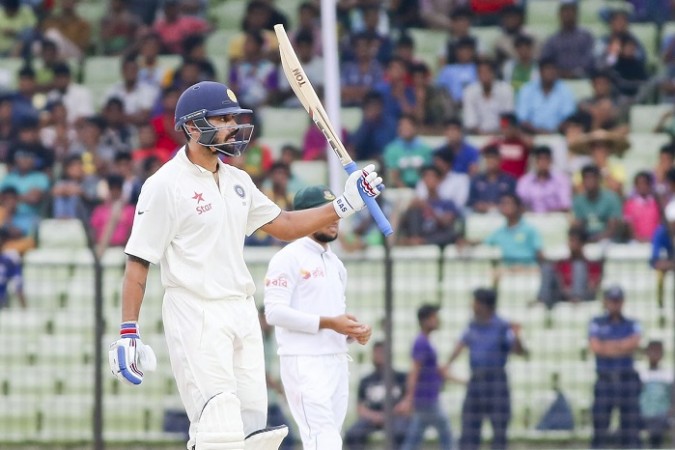 Bangladesh star Shakib Al Hasan showed just why he is such an outstanding cricketer, triggering a mini-collapse, but India remained in control at the end of Day 3 – another one seriously curtailed by rain -- of the Test match in Fatullah.
The players were greeted by something not seen so far in this Test match – a sunny day – on Friday morning and it looked tailor-made for Shikhar Dhawan and Murali Vijay to go into tonk-town right from the off, with India starting at 239/0 in 56 overs.
However, a little surprisingly – considering just how much Virat Kohli preaches attacking cricket – both Dhawan and Vijay were circumspect in their start, almost treating Day 3 morning as the beginning of their innings.
Neither batsmen were prepared to take too many chances in the initial overs, and it looked like being a bit of a crawl, before Dhawan decided to open up, with a first double hundred in sight.
However, that opening up meant chances being created, and after a couple of near-misses, where mistimed hits to the onside just evaded the fielders in the deep, Dhawan fell to the excellent Shakib, who beat him in the flight and induced a leading edge straight back to him.
Dhawan (173, 195b, 23x4), knowing he had thrown away a chance to get a double century trudged back into the dressing room, but India needn't have worried too much with the always-aggressive Rohit Sharma walking in, while Vijay, who had eased to his sixth Test match hundred with a cut to backward point, also looking comfortable.
Rohit's is-he-made-for-Test-cricket struggles continued, though, as Shakib struck again. The India batsman went for an extravagant drive through the offside, played inside the line and Shakib hit timber.
Bangladesh were now sensing they were in the game as India went from 283/0 to 291/2, which soon became 310/3 as leg-spinner Jubair Hossain got into the act, getting the prized wicket of the skipper Kohli (14, 22b, 2x4).
The India captain did not look as settled as one would have expected on this pitch – which was offering turn and bounce, but not so much to cause undue alarm to the batsmen – and another big drive proved to be his undoing, as an inside edge hit his boot and rolled onto the stumps.
With their tails up, Bangladesh would have wanted to get into India's untested lower order – remember, Wriddhiman Saha is batting at No.6 -- but Ajinkya Rahane came in and calmed things down, with Vijay looking as serene as ever at the other end.
The duo, while exuding calmness, motored along quickly as well, putting on 88 runs together in just 18 overs to take India to 398 for three in 93 overs at Lunch.
The post-Lunch session was delayed by nearly two hours due to rain – there would be one small stoppage a little later as well – and that quelled the momentum of the India batsmen just a touch.
Murali Vijay fell right after getting to his 150, and after a mini-rain break of about 10 minutes, with Kumar Dharmasena giving the batsman out lbw. Shakib was the wicket-taker again, even if he was lucky this time around, with the ball hitting Vijay (150, 272b, 12x4, 1x6) outside off and also clearly missing off.
Wriddhiman Saha came and went back quickly, castled by a Jubair (19-1-113-2) googly, before Rahane (98, 103b, 14x4) started to cut loose. Unfortunately for the right-hander, just when he was on the verge of getting to a deserved hundred, courtesy consecutive boundaries, Shakib (24.3-1-105-4) struck again, getting a ball to skid through and create the death rattle.
India were on 453/6 when Rahane got out, but the declaration still did not come as Harbhajan Singh was sent in to smash a few. Only problem was, he wasn't allowed to, because rain came down again to end the day's play while leaving the score at 462/6 in 103.3 overs.
A draw looks inevitable.