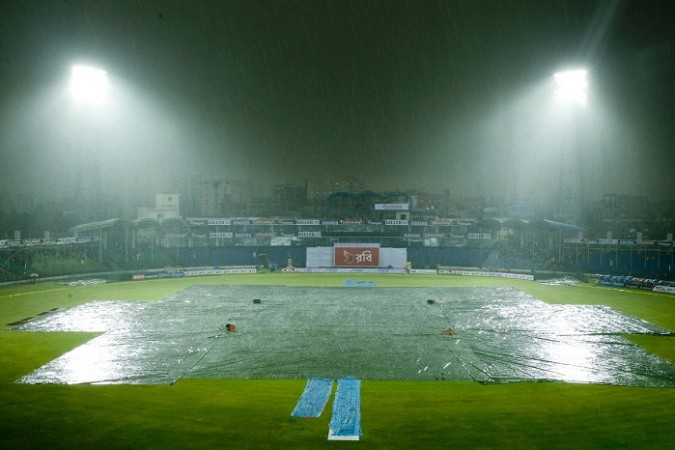 Play on Day 2 looks like being very much at a premium, with rain, rain and more rain spoiling all the possible fun Shikhar Dhawan and Murali Vijay would have contemplated having.
After dominating the opening day – also curtailed by rain, where only 56 overs were bowled – the two India openers would have wanted to go out in the middle on Day 2 morning and put the Bangladesh bowlers to the sword, but when they will now be able to do that remains to be seen, with heavy rains lashing Fatullah and delaying the start.
Bangladesh would have also wanted to go out there on Day 2 and perform better with the ball, after an underwhelming show on the opening day of this one-off Test match at the Khan Saheb Osman Ali Stadium.
However, the decision to play in Bangladesh in June is proving to be a pretty questionable one, with rain, expectedly, dampening the mood considerably.
Such is the rain in Fatullah at the moment, that the players did not even leave their hotels to be in time for the proposed start of play, knowing fully well there was going to be a big delay.
Hopefully, the Rain Gods will decide to glide those clouds away from Fatullah long enough to get some decent cricket out in the middle. Until then, it is bide-your-time-and-wait season for the players and the fans.
Update:
The rain has stopped in Fatullah, but such was the viciousness of the showers that he ground is absolutely and completely soaked. Even if the drainage of the ground is pretty decent, it is fair to say the start of play will take a while yet, unfortunately.
Hopefully, though the rain stays away for the rest of the day, so we can get some sort of match up and running, even if it looks unlikely.
While the rain had stopped a touch, a drizzle is back, a pretty steady one as well, which means chances of play continue to look dim. The umpires are walking around the outfield, which looks pretty decent, it must be said, despite all the rain.
However, the umpires will be able to take a call only once the rain stops completely.
The latest is that the rain has stopped again, but if the ground will dry up remains to be seen, especially with clouds still looming large. The latest the umpires will take a call on today's play is 2.30 pm local time (2 pm IST). So if the rain comes back, even for a bit, over the next hour or so, you can kiss Day 2 play goodbye.
And that's that, play has been called off in Fatullah, rain won the battle.
India stay on 239/0 in 56 overs, with Shikhar Dhawan batting on 150 (158b, 21x4) and Murali Vijay on 89 (178b, 8x4, 1x6).