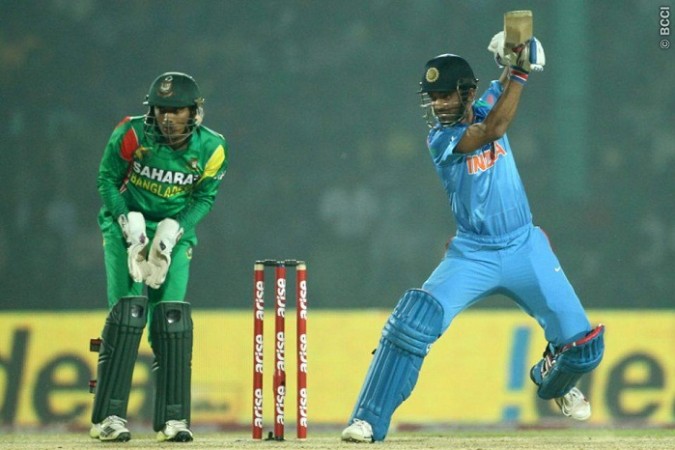 Ajinkya Rahane might have found success in the ODI game as an opener, but his performances in the middle order has not been up to the mark. Rahane was, therefore, dropped in the second ODI against Bangladesh and was replaced by Ambati Rayudu.
The Indian skipper MS Dhoni explained the reason for Rahane being dropped from the team. Dhoni stated that Rahane has problems of rotating the strike in slow pitches while batting in the middle order.
"He needs pace. We have seen that he plays a lot better on pitches that have some pace. But on a slow pitch, whenever he has batted at No. 4 or 5, he does have a problem in freely rotating the strike at the start of his innings. I think Ajinkya will have to wait," BCCI's official website quoted MS Dhoni as saying.
With the Indian team possessing a settled limited-overs opening pair of Rohit Sharma and Shikhar Dhawan, Rahane has been asked to bat in the middle order. Apart from his showing against South Africa in the 2015 ICC World Cup, he has not left a huge impression as a middle order batsmen.
With Dhawan and Rohit delivering the goods for India, neither of them can be dropped to accomodate Rahane.
Dhoni also stated Rohit has earned the right to become India's opener in the fifty-over format.
"We can make Ajinkya open the batting but that will not be fair to Rohit because when we needed him to open, he put his hands up," Dhoni said. "It is his position now and he has earned it."
But what made matters worse for Dhoni was that Rahane's replacement Rayudu failed to take his chance in the second ODI, where he was one of the three Indian batsmen to fall for a duck. Rohit and Axar Patel were the other two.
Despite Rayudu's failure, Dhoni has backed the batsman, who he feels can be a good middle order batsman.
"He has done well in whatever chances he has got, apart from this match. He's a good character to have. He's not someone who looks very stylish but he can score runs, which I feel is more important in the middle-order," Dhoni added.
So, the final call seems to be Dhoni's once again between Rahane and Rayudu for the third ODI. It will be interesting to see if Rahane will be brought back into the team or Rayudu will be given one more chance in the series, which India have already lost.
India will definitely field their strongest team, as they will be eager to at least take one victory back home from their tour against Bangladesh, after they drew the one off Test match as well, albeit because of rain.