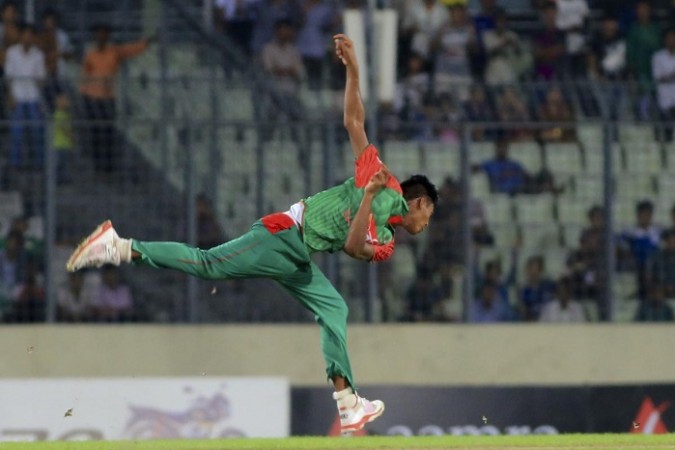 It was déjà vu all over again, as Mustafizur Rahman put on another ridiculous bowling show, in what is proving to be a dream series for the left-armer, to leave India befuddled, bereft and clueless in the 2nd ODI in Mirpur.
The left-arm pace bowler will be wondering what this ODI cricket fuss is all about, after another superlative performance in which he had figures of 10-0-43-6 to help bowl India out for a paltry 200 in 45 overs, after the match was reduced to 47 overs-a-side following a near-two hour long rain delay.
Bangladesh went about chasing down that target – reduced by one run to 200 thanks to Messrs Duckworth and Lewis – in gung-ho fashion, with neither R Ashwin nor any of the other spinners or medium-pacers able to do enough to cause consternation amongst the capacity crowd at the Shere Bangla Stadium.
Solid knocks from Soumya Sarkar (34, 47b, 2x4, 1x6), Litton Das (36, 41b, 5x4), Mushfiqur Rahim (31, 34b, 3x4, 1x6) and Shakib Al Hasan (51 n.o., 62b, 5x4) were enough to see Bangladesh to the target with six wickets and nine overs to spare.
The win, their tenth straight at home, means Bangladesh have wrapped up the three-match ODI series with a match to go – the first time they have won a series against India – while also sealing a place in the Champions Trophy 2017.
India are left to find a place to bury themselves in after another pathetic performance, where they were made to look like the underdogs rather than the other way around, while also disproving the theory – once bitten, twice shy – because they clearly refused to learn from their mistakes from the 1st ODI.
Because, had they done, Bangladesh would not have smashed through the batting order quite as easily. While Mustafizur was good – and he was, with his slower balls with varied pace and ability to stick that white ball on the stumps – there was some seriously daft batting from India as well.
Rohit Sharma was the first to fall prey to the young 19-year-old, flaying at a ball outside off stump in the first over of the match and only managing to find Sabbir Rahman at backward point, with the fielder taking a smart catch low to his right.
Bangladesh were pumped up by that wicket, but Shikhar Dhawan and Virat Kohli, with a bit of fire in their bellies, decided to take the attack to the hosts, after a couple of overs of "let's assess the wicket first."
That plan was going swimmingly well too, as Kohli and Dhawan put on 74 runs at a little over run-a-ball, before a poor shot from Kohli (23, 27b, 3x4, 1x6) led to his demise. A straight delivery from Nasir Hossain saw Kohli stuck on the back foot as the ball struck his pads smack-bang on middle stump. Kohli, as seems to be the case always nowadays, was given a send-off by the Bangladesh players, but with "Captain Cool" MS Dhoni walking in at No.4, there was a sense of calm still visible in the Indian camp.
Not for long, though, as Nasir Hossain, who did a job and a half with his 10-0-33-2 spell, induced an outside edge off Dhawan (53, 60b, 7x4), before Ambati Rayudu, one of three changes in the Indian team, was walking back as well for a duck.
Dhoni and Suresh Raina, one of the most successful partnerships in ODI cricket, had to put on a few runs together to stave off another embarrassing batting performance, but, yet again, after doing all the hard work – this time courtesy a 53-run partnership – India succumbed to the bowling of Mustafizur.
You know the left-arm paceman is going to bowl a lot of slower balls; you know that will be mixed with a couple of darts into the stumps as well; so you must watch how the ball comes out of his hand. Raina (34, 55b, 3x4) did not do that well enough, and a spongy slow bouncer outside off found an outside edge through to the wicketkeeper. That wicket came in the third ball of the Batting Powerplay, taken in the 36th over, and it was all Bangladesh from there.
After a period of very few runs, despite having only three fielders outside the 30-yard circle, and a lot of struggle to get bat on ball for Ravindra Jadeja, Dhoni succumbed to the slow off-cutter from Mustafizur, playing his shot way, way too early to spoon a catch to short cover. Off the next ball, Axar Patel was caught plumb in front, and India were in all sorts of trouble on 174/7.
Mustafizur was in the ridiculous zone now, and after bamboozling R Ashwin for a few balls, another cutter did the trick leaving the Bangladesh teenager with a smile wider than a kid in a candy store, while also becoming just the second bowler in the history of ODI cricket, after Brian Vittori, to take two five-fors in his first two ODI matches.
Just when Bangladesh were looking to stick the knife in, though, rain came to save India's blushes with the score at 196/8 in 43.5 overs.
However, once play resumed it was the same old story as Mustafizur became the only bowler to take 11 wickets in his first two matches in ODI cricket history by castling Jadeja. Rubel Hossain (7-0-26-2) then finished the innings off in the next over to give the batsmen an easy chase.