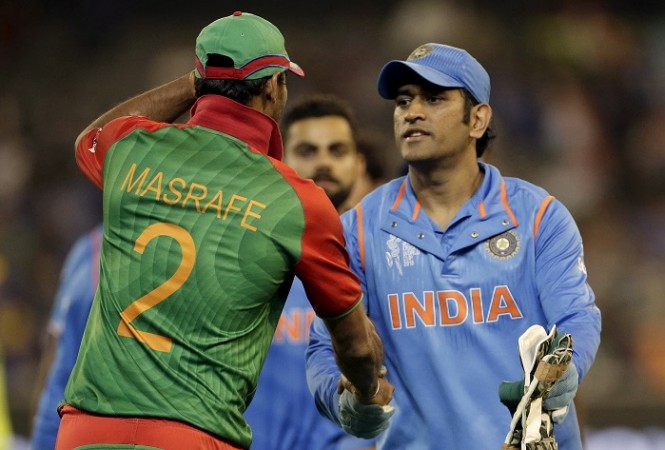 The first ODI between India and Bangladesh saw the visitors suffering a humiliating 79-run defeat. As if that was not enough, India ODI skipper and 'captain cool' MS Dhoni was fined 75% of his match fee for an on-field collision with Bangladeshi debutant star Mustafizur Rahman during the match. Rahman was fined 50% of his match fee.
Both sides played down the incident.
Bangladesh were playing India for the first time after their controversial quarter final match of the ICC World Cup 2015. It was evident from the very first ball that the hosts will be coming hard on the former World Champions.
Dhoni has always been considered as the epitome of coolness in this Indian side. Aggression and brashness are associated with Virat Kohli.
But on Thursday, it was Dhoni who was seen pushing Rahman with his shoulder while taking a run in the 25th over of India's innings. The video showing those moments has been doing the rounds on Internet.
"The bowler (Mustafizur) thought I would move away while I thought he would. But as none of us did, we collided. This can happen in any match. It's nothing big. I spoke to him later," Dhoni told reporters.
Earlier, Rohit Sharma had also collided with the same bowler and pointed a finger at the debutant bowler, who single handedly sent half of the Indian side back to the pavilion.
After the match, Dhoni and Rahman was summoned by match referee Andy Pycroft who charged both of them with Level 1 offence of the ICC Code of conduct, which leads to a fine. If they were found breaching Level 2, they could have been banned for a certain number of matches. Rahman was also fined 50% of his match fee for the collision.
"Things like this can happen on the field during a match. We all shake hands at the end of the day and such situations can be discussed with the on-field umpires. It's nothing serious," Bangladesh skipper Mashrafe Mortaza told reporters after the match.
Bangladesh decided not to file a complaint against skipper Dhoni. Indian team manager Biswaroop Dey was present during the hearing.