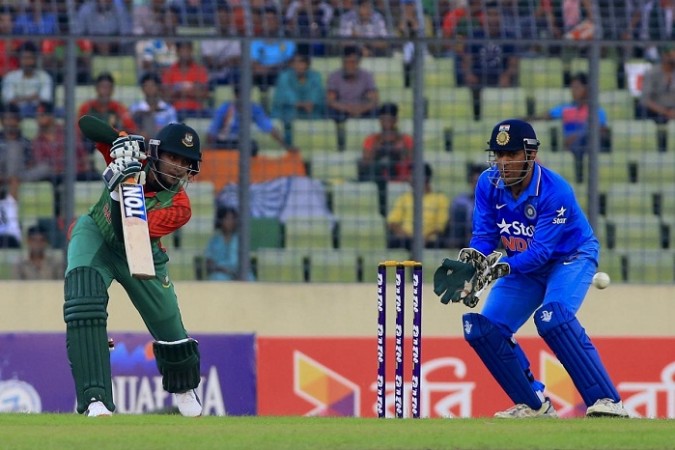 Mustafizur Rahman might have had a debut to remember, picking up a five-for in his first ever ODI match, and that too against a strong side like India, but the left-arm medium pacer learned the rigours of international cricket, and the ridiculous power of MS Dhoni, in more ways than one, the hard way.
In the second ball of the 25th over of the second innings, Dhoni went for a quick single, only to see the bowler Mustafizur standing in his way. Dhoni, realising, or thinking (depending on your perspective) that the bowler was deliberately trying to block his path, put the old-fashioned football (the Indian team do play a lot of football) shoulder charge in to send Mustafizur flying.
The India skipper immediately pointed at the Bangladesh bowler, suggesting the act of coming in the way was deliberate, and replays did show, Mustafizur just slowly sliding towards the path of the runner.
The shoulder charge did look pretty bad to be fair, and while many have gone on to criticise Dhoni for the manner in which he barged into Mustafizur, it really was, initially, the bowler's fault.
After all, Mustafizur tried the same tactic earlier in the match against Rohit Sharma as well, and replays showed that was a lot more blatant. He looked at the batsman, and nonchalantly moved into his path as Rohit was going for a quick single to mid-off.
Rohit sashayed out of the way before making his crease, but that finger was pointed at the bowler immediately, with the umpire having to come to make peace.
Clearly, Mustafizur, so impressive with his off-cutters, which completely bamboozled the India batsmen, needs to learn the difference between playing cricket in your backyard and playing professional cricket.
Such sneaky stuff is just unacceptable in international cricket, and while Dhoni could have done what Rohit did, and move out of the way, perhaps it was the India captain's way of saying "this ain't happening here man," especially after he would have seen Mustafizur do the same to Rohit earlier in the match.
All is well that ends well for Mustafizur, though, because the left-armer came back after a brief break to get some treatment, and picked up three more wickets to complete a stunning five-for, which completely knocked the stuffing out of India.
Stay away from the backyard games, while keeping that raw natural ability would be the best advice that Mustafizur can receive going ahead in his international career, which going by his performance on ODI debut, certainly looks bright.
But he will definitely not forget the power of Dhoni anytime soon.
Watch MS Dhoni's shoulder charge on Mustafizur HERE
Watch Mustafizur take his five-for HERE