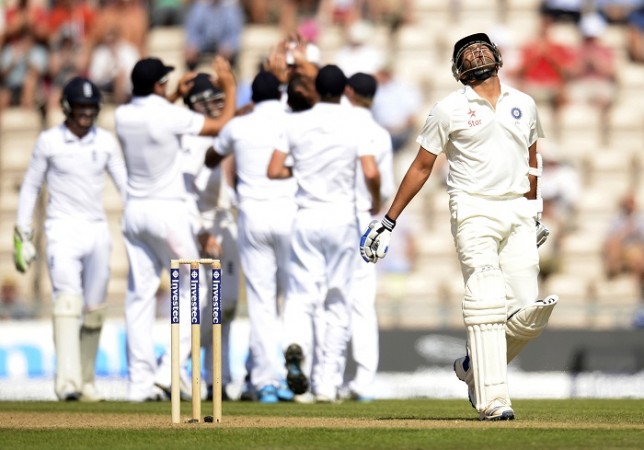 If there is one thing that was the most predictable, expected and "you just know it is going to happen" scenario in the first two Tests between Australia and India it was the fact that Rohit Sharma would flatter to deceive yet again.
Time and again the elegant right-hander has gotten off to good starts, only to throw it all away with a loose shot, and that too during a crucial phase in the game.
Not one of the four dismissals in the first two Tests was caused by some brilliant bowling from Australia – every single time, Rohit could have avoided getting out, instead that bat was poked away from his body or an unnecessary shot was played when India looked in a decent position and/or when they needed their last pure batsman to stay at the crease for as long as possible.
The number six position in the batting lineup is never easy, particularly in this India team, who are way too prone to a batting collapse. Invariably, when that collapse happens, the onus will fall on that No.6 batsman to stem the tide, add a bit of calmness to the proceedings, or, at the very least, show some counter-attacking powers and quell the opposition's momentum.
Rohit fell short in every single one of those categories in the first two Tests, and indeed in the series against England. Test match cricket is not as easy as Rohit makes ODI cricket look. Yet, you wonder how someone, who scores 264 in a single innings in a one-day match, cannot survive a couple of hours, at the very least, consistently in a Test match.
The thing about Rohit is that, you know he is capable of getting that unbelievable hundred, the kinda century that has made Matthew Hayden a fan of the right-hander; but you also know for every hundred that Rohit makes in Test cricket, there will be a flurry of low scores and what-was-he-thinking-getting-out-at-this-time knocks. And he even pumped Mitchell Johnson up with an unnecessary sledge, which only led to the Aussie tyro smashing the bowlers to all parts of the ground and turning the second Test in Brisbane in the home team's favour.
After that good start to life in Test cricket at home against the West Indies last year, Rohit's Test career has rather careened into nowhere, and surely it is time for MS Dhoni, Duncan Fletcher and Ravi Shastri to pull the trigger and take a chance on someone else.
So who is there to replace Rohit in that lineup? Enter KL Rahul, sprightly and eager to make an impression after scoring bucketloads of runs for Karnataka in domestic cricket, and that enigma who goes by the name of Suresh Raina.
Admittedly Raina is as likely to be a hit-and-miss as Rohit, but the left-hander will at least score a lot more runs in that same amount of time than his India teammate – whether he can stay as long as even Rohit manages to, is another matter, of course.
Rahul has a better case here, with the only thing holding him back being the fact that he has not actually played a Test match yet. The Karnataka batsman, though, is tailor-made for the five-day game, able to make those runs with aplomb while also showing fight and grit when required.
India also have the option of playing a bowling all-rounder, like an Akshar Patel – surely too early for him though – or an extra bowler, especially with Bhuvneshwar Kumar looking like he will be fit for the next Test, even if that remains unlikely considering the fragile nature of the batting.
With India needing a win in the Boxing Day Test match in Melbourne to stay alive in the series, surely it is time to take a firm decision, rather than waiting and hoping and praying that maybe this Test will be the Test that Rohit strikes that jaw-dropping hundred.