India vs Australia, pointless or extremely important seven-match series, depending on your point of view, stayed at 2-1 after the fourth one-day international in Ranchi was called off due to rain.
Hosts were asked to chase 296 to make it 2-2, but with the hosts on 27 for no loss and Rohit Sharma and Shikhar Dhawan looking like they were in the mood for another century partnership, Mother Nature decided to have her say, with incessant rain leading to the match being abandoned.
It all started swimmingly, no pun intended, for India, with Mohammad Shami providing M.S. Dhoni what he has been desperately missing in the last one-day internationals - a bowler who can pick up wickets at the top of the innings. However, as has been the case throughout this series, the momentum swung right back in Australia's favour with a brilliant 153-run partnership between how-good-a-form-is-he-in George Bailey (98) and Glenn Maxwell (92).
The pendulum, though, then decided to take shelter in India's direction in the last ten overs, as Australia lost their way a little, finishing on 295 for eight from their 50 overs, when a score over 300 looked really on.
Rain then interrupted India's charge towards the target, with the hosts on 27 without a wicket in 4.1 overs. India would have been set a target of 150 in the minimum 20 overs needed to constitute a match, but even that proved to be impossible with rain pouring down in Dhoni's home town.
Earlier, Shami (three for 42), ignored for the first four matches of the Australia tour, came to the fore in some style at the first time of asking.
The Indian fast bowler knocked out Australia's top three batsman within just eight overs, and leaving the visitors reeling for the first time without a real start.
Shami first sent the in-form Aaron Finch packing with that perfect ball, which pitched outside off and knocked off the top of off stump. Jaydev Unadkat, with nothing like the pace of Shami, was doing reasonably well at the other end, keeping it tight at one end, with Shami doing all the damage at the other.
The Bengal pacer picked up his second wicket in the sixth over, inducing the outside edge of Philip Hughes from a delivery that rose sharply, with Dhoni making no mistake behind the stumps.
Shami could have two wickets in two balls, but Virat Kohli dropped the Australian skipper Bailey at slips, in what eventually proved to be an extremely expensive miss.
The players had to come off for a few minutes with Australia on 28 for two from 7.2 overs with rain deciding to interrupt play, but once the match resumed, there was no change in Shami's prowess. The 23-year-old sent Watson's wickets cartwheeling with a wonderful in-dipper as Australia struggled on 32 for three in eight overs.
Adam Voges and Bailey attempted another long partnership of the Mohali ilk, but the former fell victim to R. Ashwin, leaving Australia on 71 for four in the 15th over.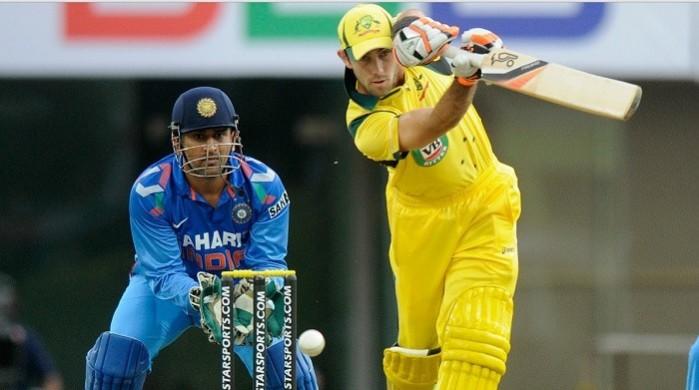 Australia desperately needed a partnership, and the ever-impressive Bailey and Maxwell provided just that, allying for 153 runs in a mere 22.3 overs.
India were extremely culpable on the field, however, dropping Bailey and Maxwell on more than a couple of occasions, and allowing Australia to take full advantage - there were actually five missed catches in all in the innings.
That partnership for the fifth wicket turned out to be the innings-changer, with Australia looking primed for yet another score over 300.
Three wickets in three overs, though -- of Bailey (98, 94b, 7x4, 3x6), just two runs short of an hundred, Brad Haddin and Maxwell (92, 77b, 6x4, 5x6) -- curbed Australia's momentum, with Vinay Kumar (two for 52) picking up the crucial wickets of the two settled batsmen.
Australia only managed 57 runs in the final ten overs, as India pulled things back remarkably well - of course they shouldn't have had to restrict Australia in the final over in the first place, had they hung onto their catches, particularly the one of Bailey, which would have seen the Australian captain out for a golden duck.
The next match is set for Cuttack, with wet weather very much the norm rather than the exception at the moment; so a full match, if any at all, does look unlikely as it stands. A pity, since the series, despite its detractors, was shaping up to be a fascinating one.
On the bright side, though, the abandonment means India will keep their No.1 ranking on one-dayers with Australia needing a 6-1 series win to usurp the hosts.