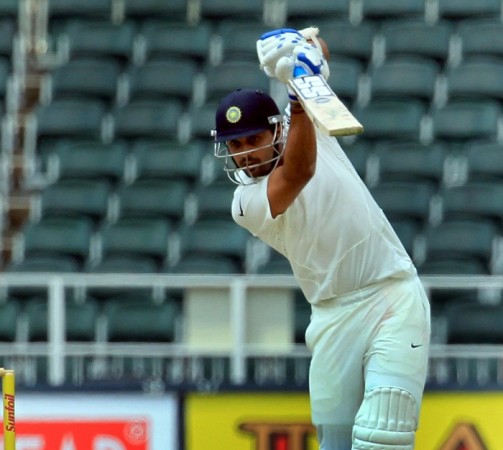 Murali Vijay stood stall as the Australia bowlers tumbled out one after the other, unable to cope with the heat or the barrage of boundaries struck by the stylish India right-hander on day one of the second Test in Brisbane.
Vijay was impeccable, impressive and insanely good in his 144 and the driving force behind India's dominant 311 for four on the opening day at the Gabba, a day they had to bat strong after MS Dhoni won the toss and chose to wield the willow first.
The India opener's innings was the perfect example of patient batting in the first couple of sessions, especially the second one when Australia threatened to derail India's batting mojo, followed by the smash of stunning proportions in the final session against a tired Aussie bowling lineup, who just could not cope with the extreme Brisbane heat.
For the man from Chennai, however, this kind of heat was just like any other day back home, and boy did he look at home at the Gabba on Wednesday.
"It was really hot today," said Vijay. "It was mentally challenging and draining. But I was in my zone.
"I wanted to stay in there as long as possible because I knew we are more familiar to these hot and humid conditions than they are. If I could stay in for a couple of sessions, I could tire the bowlers out."
Vijay nearly helped India to a stunning victory in the first Test in Adelaide, putting on a brilliant partnership with Virat Kohli on the final day, before his wicket, while on 99, turned the momentum in Australia's favour.
This time, though, there was no such drama as the right-hander cruised to his century and then some on the bouncy, pacy environs of the Gabba.
"The ball wasn't going on the off-stump. Everything was either going too far or coming straight," said Vijay, who added 124 runs with Ajinkya Rahane, the defining partnership of the day. "It is much easier to leave balls on a bouncy wicket than on a wicket like Adelaide. It was an entirely different experience.
"Ajinkya and I were just setting small targets and I was focused on that more than anything. I didn't realize that I had reached my century until Ajinkya came and told me.
"In the last innings I knew I was on 99 and I got out. So, I guess this time it was good that I didn't know and got the hundred."