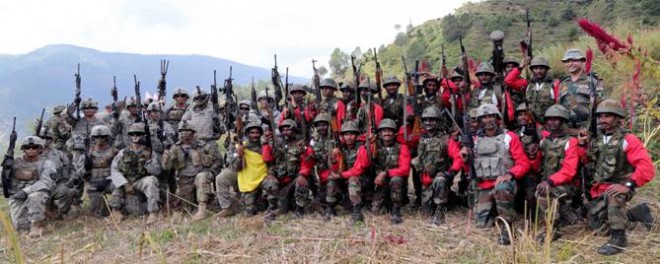 The India and US military exercises, Yudh Abhyas 2016, has successfully been completed. The exercises were being conducted at Chaubattia, Uttarakhand, and this is the third such exercise being conducted at this location between the armed forces of the two countries.
The exercise saw the participation of 400 soldiers from both the sides. The US side was represented by the 5th Battalion 20th Infantry Regiment and the Indian side by Madras Regiment's Infantry Battalion.
The two armed forces also performed consolidation and validation exercises of the Rescue and Destroy mission. Apart from the training, the contingents participated in a number of extracurricular and sports activities.
They also took part in a parade and exchanged mementos.
The exercise, started in 2004, has progressively increased in scope and content. These are aimed at strengthening and broadening the interoperability and cooperation of the two armed forces.
Major General RK Raina of the Indian Army congratulated both the armed forces on the successful completion of the exercise, while noting that the friendship between them is rising steadily. He also noted that the two countries face similar challenges from extremism and international terrorism.
Major General Thomas James of the US Army stated in his address that the exercise strengthens relationship between two forces. He also stated that the stronger bond between the two armed forces was important for regional growth and stability.