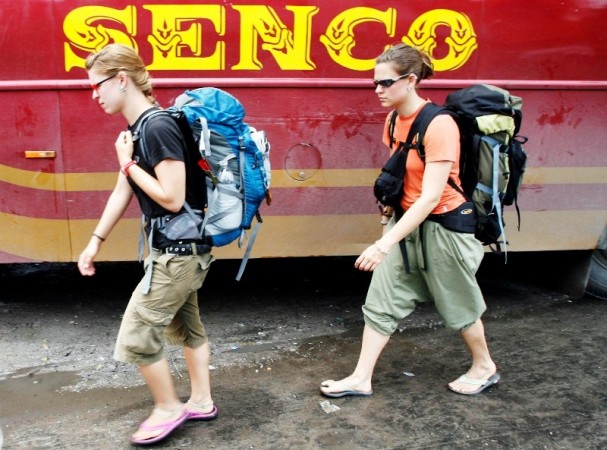 The success of the e-tourist visa initiative and other tourism-related policies has allowed India to climb 13 positions — from 65th to 52nd — in the tourism and travel competitive index, according to a World Economic Forum report.
But foreign tourists visiting India may have genuine safety concerns that, if not addressed adequately, could potentially hamper the sector's growth.
Warnings around the world
"Women should exercise caution when travelling in India. Reported cases of sexual assault against women and young girls are increasing; recent sexual attacks against female visitors in tourist areas and cities show that foreign women are also at risk," the United Kingdom High Commission website, states under its Foreign Travel Advice (India).
The website lists incidents of violence against British women in Goa, Delhi, Bengaluru and Rajasthan. It says: "Women travellers often receive unwanted attention in the form of verbal and physical harassment by individuals or groups of men."
The High Commission also provides travel tips for women travellers in India. The page asks travellers to "think about how your clothing will fit in with local customs" and see what local women are wearing.
It advises women to "wear a wedding ring (even if you don't normally) to help avoid harassment."
It also states that if citizens are travelling alone, they may attract unwelcome attention and "unwelcome propositions or remarks." In such situations, the advisory suggests "it is usually best to ignore them" and "act confidently."
The U.S. has a similar advisory for its citizens travelling to India, which also warn against theft of personal property, fraud and sexual assault.
It also advises women to "observe stringent security precautions, including avoiding use of public transport after dark without the company of known and trustworthy companions, restricting evening entertainment to well-known venues, and avoiding isolated areas when alone at any time of the day."
Canada advises its citizens to "use any means necessary to draw attention to the situation, such as shouting for help in the local language or activating a personal security alarm that emits a piercing sound."
Targeting touts
According to the Delhi Prevention of Touting and Malpractices Against Tourists Act, 2010, a tout is one "(who) loiters around airports, railway stations, bus stands, markets or any other places frequented by tourists with the intention of offering any unsolicited service to the tourist or pestering or coercing him..." The Act lets the police make arrests or detain suspected touts.
According to an Indian Express article, 89 cases of touting were reported last year in Delhi, and 40 cases till June this year.
Touting is a common practice outside the Terminal 3 of the International Indira Gandhi Airport in Delhi. "The absence of adequate police officers outside the arrival hall encourages touts to carry out their unlawful activities. This shows a lack of effective policing." a Delhi court had noted in November last year while hearing the case of an arrested tout.
"Cameras have been installed at the airport and policemen in plain clothes keep an eye on touts. We have also issued advisories to Delhi Police black and yellow cabs to make tourists aware of the menace." DCP (Airports) Dinesh Kumar told the Indian Express.
Another measure taken to deter touts was the introduction of a Rs. 150 entry fee in October last year by Delhi International Airport Limited (DIAL).
"DIAL has proposed to regulate and de-congest the forecourt area to prevent unauthorised parking for long periods as it inconveniences passengers... This will also prevent touts from hanging around and will improve passenger safety," an official was quoted as saying by the Indian Express.
Capital of shame
Numbers reveal a disturbing story of a surge in crimes against foreigners in Delhi. According to the latest data available from the National Crime Records Bureau (NCRB) for the year 2014, of the 384 cases of crimes against foreign tourists in the country, 135 were recorded in Delhi.
Of the 17 cases of rape of foreign nationals reported in 2014, Delhi witnessed the maximum number of cases — six.
Incidents of rape, murder, and attacks on foreign nationals has cast serious doubts on security measures taken by the capital to keep the city safe for foreign visitors.
According to annother article published in the Indian Express, the number of calls to the tourist helpline 8750871111 — set up by the Delhi Police after the 2014 gangrape — has been dwindling.
It had received 60 calls in the first year, 2014, 22 calls the next year and only seven calls till June 9 this year.
The helpline number is available on the Delhi Police website and at police stations across the capital.
However, most guidebooks and travel booklets about the capital have no information on the helpline. Most tourists are unaware of the existence of such a helpline.