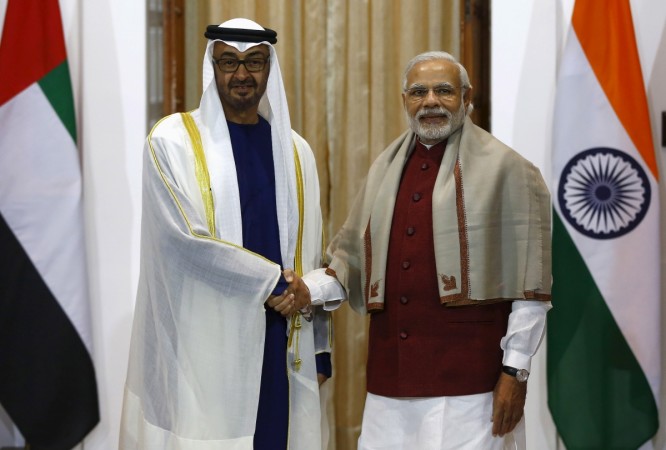 Later during the month, India and the United Arab Emirates (UAE) will launch a political and economical dialogue in Dubai ahead of Abu Dhabi Crown Prince Sheikh Mohammed Bin Zayed Al Nahyan's presence as chief guest for Republic Day parade next January.
The Middle East nation is looking to invest in India's growing real estate sector apart from ports and hydro-carbon fields. The BJP government, led by Nitin Gadkari and MJ Akbar will hold discussions with the political leadership of the Gulf nation between October 18 and 20, the Economic Times reported.
"Oil-rich and cash-rich UAE is looking east as it plans to diversify its economy. The government in UAE feels that India is a natural partner with similar culture traits, food habits and centuries-old trading ties. There is a natural synergy and the UAE leadership enjoys a level comfort with the biggest country in South Asia. India should try and cash-in on the opportunity that currently exists there," an official source explained to the publication.
The upcoming meeting would be the first between the two countries ever since the Abu Dhabi crown prince accepted the government's invitation for the Republic Day parade. The UAE came out in support of India post the Uri attacks. It had backed the central government.
The Middle East nation is eyeing funding projects in sectors such as development and expansion of ports, oil sector and other associated sectors, according to the person familiar with the Indo-UAE Economic partnerships told ET.
Hospitality and healthcare are the other two sectors in India where UAE is keen to invest. The two countries had resolved to take their $59-billion bilateral trade by 60 percent in the next five years.
Abu Dhabi crown prince and deputy supreme commander of the UAE armed forces Sheikh Mohammed bin Zayed Al Nahyan will be the chief guest at India's Republic Day celebrations next year, indicating the importance the two countries attach to their relationship.
The UAE was India's third largest trading partner in 2014-15, after the US and China, according to India's external affairs ministry update.