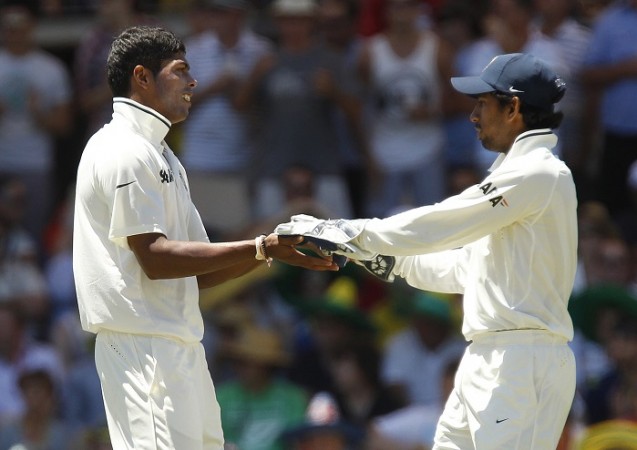 Wriddhiman Saha said that he has learnt a lot from former India Test skipper and wicketkeeper MS Dhoni. Saha, who has been picked in the India Test squad for the Bangladesh tour, has been given the job of filling the big boots of Dhoni.
"I have been with the team for a long time now. Even when Dhoni was playing, I was there to see what he does. I know how he approaches the game, have been following him closely," Saha told reporters before leaving for the tour of Bangladesh.
Till date, the talented wicketkeeper from Bengal has played only four Test matches for India and, therefore, will be keen to prove a point in the upcoming Test match. Saha admitted that watching Dhoni closely has helped him improve his game in all departments.
"I had a word with him (Dhoni). I have learnt a lot of things -- be it batting or keeping related issues -- and I will try and implement those. I have an added responsibility now representing team India and hope I will be able to fulfill all such responsibilities," Saha said.
A few months ago, skipper Virat Kohli had said that Saha deserves the opportunity of being India's Test wicketkeeper. Saha will not want to let his skipper down this time and he will want to grab this opportunity with both hands.
Saha also believes that the pitch in Bangladesh will not differ much from that of the Indian pitches, and it will not be that difficult for him to adjust to the conditions.
"From childhood I have been playing in Kolkata and there is not much difference in pitches here as compared to pitches in Bangladesh. I hope it will be helpful [practicing in Kolkata]. We have to go there now and further see what the pitches have in store for us," Saha added.
Saha, who made his Test debut against South Africa in Nagpur back in 2010, will look to prove his worth and approach this upcoming one-off Test match against Bangladesh with a lot of positive intent. Saha has had a good domestic season and he was decent for the Kings XI Punjab in the IPL, scoring 249 runs.
"I'll try and make best of the opportunities that come my way. Hopefully I will improve with more exposure. With it my confidence will be boosted and I will try and approach the international games with as much intent as I have been showing in domestic cricket," Saha concluded.