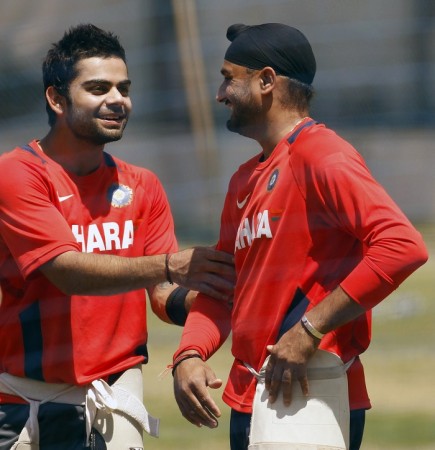 Veteran off-spinner Harbhajan Singh was all praise for Virat Kohli ahead of India's tour of Bangladesh, saying the Test captain's positive intent and aggression have helped the team win matches.
"Virat is a matchwinner, someone who is very competitive. No matter what the situation is, he always wants to win which is a great quality as a player. Having him as a captain, certainly helps the team a lot as he is always looking for the win," Harbhajan told the reporters before India's departure for the Bangladesh tour.
Harbhajan believes that having a player and leader like Kohli will power India to success in the near future.
"I have played a lot with him, he is very positive and he is someone who is always there for the team," the spinner added. "He wants to take up challenges and wants to finish up the game, which is very important form the team's point of view.
"Having a captain who has so much of energy, is a very positive sign. The way Indian team played in Australia was brilliant. Though we didn't win the Test [series] that intent was there and that's what Virat Kohli brings to the table. Whatever he does on the field, he does it to win the game.
Harbhajan was recalled to the India Test squad after two years for the Bangladesh tour. While there is no doubting his ability, Harbhajan has only one Test match to show he still has the skills needed to perform at the international level.
Harbhajan has 413 Test scalps to his name, and he will look to add some more to that tally in this one-off Test match against Bangladesh, which is scheduled to start from Wednesday in Fatullah.
"My role would be the same what it was five years back – to win games for India and help other bowlers in the team. We need to work as a unit and it is not about me there are other bowlers and we all would look to back each other," Harbhajan said.
"That is what I have been doing while I was playing with Anil Kumble, Amit Mishra and other bowlers. The goal is the same -- to win for India. I am very excited and hopefully I can contribute to the team's success."
It will be interesting to see whether skipper Kohli will opt for both Harbhajan Singh and Ravichandran Ashwin for this solitary Test match. The wicket will not differ much from that of the Indian pitches and is likely to assist the spinners once the ball gets older. The veteran off-spinner, popularly known as the 'Turbanator' is looking forward to bowling alongside Ashwin.
"Bowling with Ashwin will be good, his motive as well as mine are to win the game for India. We are going there as a team and we need to push everyone together towards the direction of victory," concluded the 34-year-old.