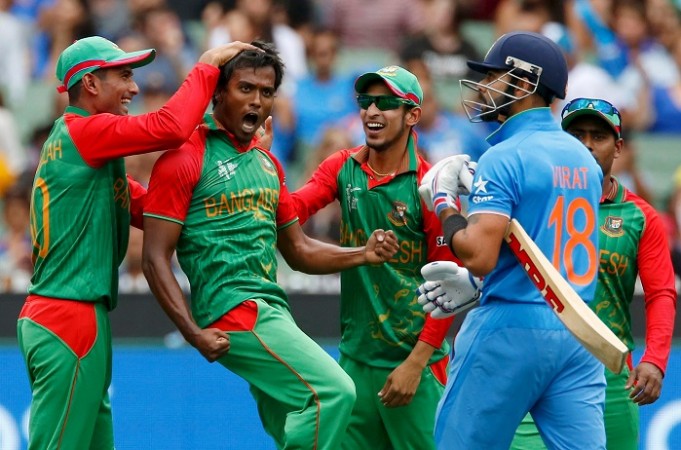 Bangladesh top-order batsman Soumya Sarkar said on Sunday that his side are the favourites against India in the upcoming bilateral series that starts with one-off Test match on June 10 at Fatullah. Sarkar was also confident of beating the men in blue.
Bangladesh can no longer be termed as the minnows in world cricket now as they have proved themselves during the ICC World Cup 2015, when they qualified for the quarterfinals at the cost of giants like England.
They even whitewashed Pakistan in Bangladesh when the former visited the country earlier this year. Bangladesh handed the visitors a 3-0 defeat in the One-Day International series. Sarkar was one of the leading scorers in this series.
"To me, Bangladesh are favourites. If we can continue our good form, then good result should come our way. Whenever I get the chance, I try to bowl. I got a chance to bowl against Pakistan in the last Test and I tried my best. I also bowl in practice whenever I have the chance so that I can overcome the shortcomings in my bowling," Sarkar told reporters ahead of the upcoming series against India.
Sarkar has been working hard before this all-important series against one of the powerhouses of ODI cricket.
He is said to be growing in confidence and has been learning from his previous innings that he has played. Sarkar is raring to go against India, who are also sending a full-strength squad.
"I already started preparations to become a good Test player. In the first Test against Pakistan, I could not capitalise on good starts in both the innings and I also failed to do anything significant in the second Test, but after that I began trying to mentally prepare myself for the longest version of the game. I started with how to understand when to leave the ball," Sarkar said.
India will also play three ODIs after the one-off Test match and all of these are scheduled to be played at the Mirpur Stadium.