Minister of Commerce and Industry, Suresh Prabhu stated on Saturday that India has "very strongly" raised the issue of non-immigrant visas like H-1B and L1visas with the US administration.
Trump administration makes renewal of H1B visas more difficult
Referring to the stricter norms enforced by the Trump dispensation in issuing non-immigrant visas, Prabhu also felt that the American economy would find it difficult to cope with the reality as it was immensely benefited by Indian IT professionals.
The US H1-B visa is a non-immigrant visa, which allows firms to hire foreign workers in specialised occupations. The H1-B and L1 work visas are majorly used by Indian IT professionals. Currently, the cap on H1-B visas stands at 65,000, out of which 25,000-35,000 are issued to Indian nationals.
While President Donald Trump is levying the restrictions on the visas with the aim to protect American workers from discrimination and replacement by foreign labour, Prabhu feels that the curbs on Indians seeking the visas will ultimately affect America.
"We raised very strongly the issue of Indian professionals and H-1B and L1 visa issues," Prabhu was quoted as saying by the PTI.
Prabhu made these statements in Washington after participating in the first US-India bilateral Trade Policy Forum (TPF) under the Trump administration which was also attended by US Trade Representative Robert Lighthizer.
Prabhu added that his reservations on the restrictions were not just because it would affect the job opportunities for Indians but because it woud affect about the US market.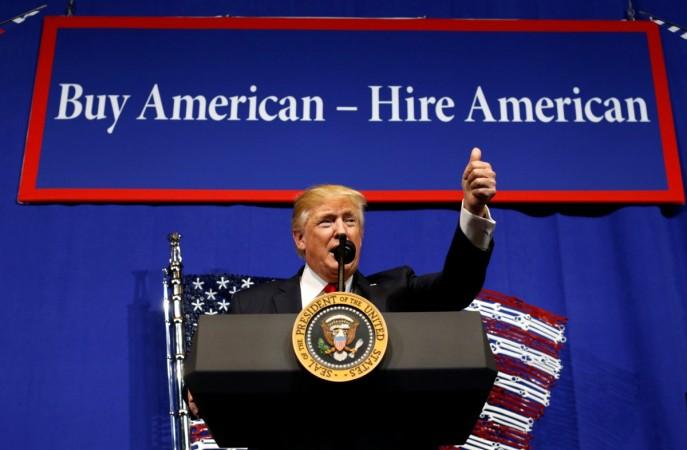 "We explained to them that we are not raising this issue because Indians will find it difficult to come, because US economy itself will find it difficult to cope with the reality because the US has immensely benefited by IT professionals penetrating into the market by offering services that has improved their productivity," Prabhu said.
However, he also defended the benefits that Indian IT professionals ought to enjoy in the US.
He pointed towards the issue of mismatch between US visa and US social security regimes. According the minister, Indian professionals making social security contributions do not receive their due benefits upon their return to India, said the PTI report. "I hope they will look into the issue," Prabhu added.
External Affairs Minister Sushma Swaraj on October 25 said that she had raised the H-1B visa issue with US Secretary of State Rex Tillerson during their meeting in New Delhi. Swaraj had reportedly asked the US not to do anything that would adversely affect India's interests.