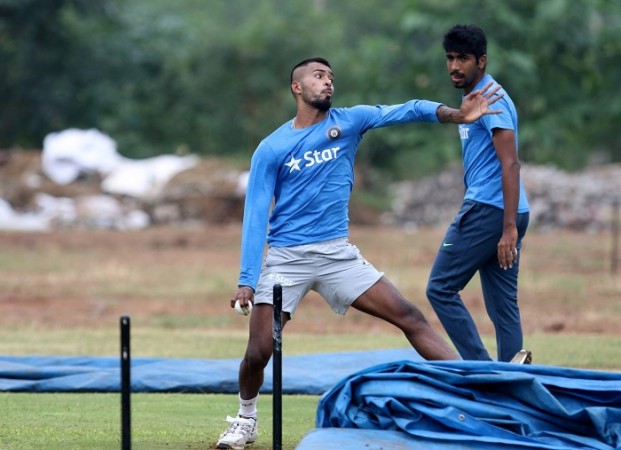 The James Anderson injury might have received a lot of traction, but India also go into the Test series against England with a few injury clouds hanging over their heads. However, the positive way to look at the injury worries is that it opens up an opportunity for someone else.
Only a couple of weeks ago, Hardik Pandya was making his ODI debut for India, after fighting his way back into the reckoning following a spell where he seemed to lose sight of the kind of player he really is.
Pandya made a brilliant ODI debut, winning the man of the match award for his wonderful spell of bowling with the new ball. Now, he might have a chance of getting into the India playing XI for the first Test against England in Rajkot as well.
Rohit Sharma is out injured, so that means there is a place that has opened up in the XI. Kohli is someone who likes to have bowling options, and as a result, Pandya could sneak in ahead of Karun Nair, who is the batsman named as the replacement for Rohit.
Nair also deserves a shot at that tricky No.6 position, and while Rohit did just enough in the New Zealand series to earn a call-up for the England rubber had injury not curtailed those plans, that spot really is ripe for the picking. So, if Nair does get an opportunity, he needs to make sure he takes it – not by scoring 50s and 60s, but by making big hundreds.
While India did well with the six batsmen and four bowlers against the Kiwis, Kohli could really use an extra bowler. Just take a look at the value Ben Stokes brings to the England side – he is capable of picking up key wickets, while he can take the game away from the opposition with his batting.
Pandya is nowhere near Stokes' level yet, but how good he can be will only be known if he is given an opportunity. The 23-year-old has not exactly lit up international cricket with one consistent performance after another, but some people take to a format better. Virender Sehwag – and in no way is a comparison being made here – for instance was a much better Test match batsman than he was in ODI cricket, even though his style suggested he would be better suited to limited-overs cricket.
Maybe, Pandya will take a liking to Test match cricket – yes, his first-class batting average is only 27.96 and yes, he has only taken 22 wickets in 16 matches – and maybe the most important format of the game will bring the best out in him. We'll know for sure only if he is given an opportunity.
Taking that chance against strong opposition like England might not be the greatest of ideas, but then Virat Kohli is someone who likes to take risks – the other option for Kohli will be to play the off-spinner Jayant Yadav, which would be understandable considering the amount of left-handers England have in their squad.
Maybe, if his instinct says to go with Pandya, the more aggressive and potentially match-winning option, he will pick the all-rounder for the first Test match; and maybe that will turn out to be an absolute masterstroke.
Whatever happens with the India playing XI, what the Pandya selection gives Kohli and coach Anil Kumble is more options, and that can never be a bad thing.