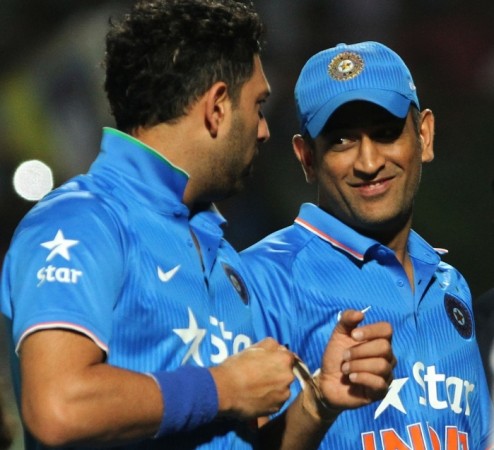 Happy and confident is what the India squad are, going into the 2016 Asia Cup T20. Having thumped Australia and easily beaten Sri Lanka, India look as strong as they come in this format, with the Asia Cup and the World T20 now very much in MS Dhoni and his team's sights.
Well-rounded, but with a few small chinks is probably the best way to define this India T20 team at the moment. The top order is as good as any side in the world, while the middle order is not too shabby either. The lower middle-order, though, is a little suspect, which is probably where India might struggle as they play T20 after T20 over the next month and a half.
In Shikhar Dhawan, Rohit Sharma and Virat Kohli, India have a top three the envy of pretty much all teams in the world. When in full flow, as they have been so often in the recent past, the rest of India's batting order and the opposition on the field become mere spectators. However, if the three do not fire, India have enough backup options in Suresh Raina, arguably the team's best T20 batsman, MS Dhoni and Yuvraj Singh – Ajinkya Rahane is the extra man in the squad for both the top order and the middle order.
Yes, Dhoni and Yuvraj's batting form is a bit suspect, but there is no better player in the history of limited-overs cricket in soaking up the pressure than the India captain, and Yuvraj is, well, Yuvraj; write him off at your own peril.
India's slight problem, in terms of batting, lies in the fact that they do not have enough he-can-hit-sixes-from-the-first-ball options. Hardik Pandya is one, and as he showed in the series against Sri Lanka, he is a really good one at that. Pawan Negi was preferred to Axar Patel owing to his big-hitting prowess, but only one of Negi and Pandya is likely to play in the XI, unless Dhoni decides to go a batsman light, which would then open up an opportunity for Harbhajan Singh, who can smash a few sixes, as well. Ravindra Jadeja is not as convincing anymore with the willow, while R Ashwin is not your go-to guy for finishing an innings in this format.
Dhoni and Yuvraj are not the kind of batsmen who can go into tonk-town from ball one, leaving India a little thin in that boundary-from-first-ball department. However, if the top three continue playing like they have done, and with Raina to follow, it is a problem that Dhoni will not have to deal with too often.
The bowling front also looks pretty good for India. Ashish Nehra has looked like he can take wickets up front, with Jasprit Bumrah providing Dhoni the death over option he has wanted for so long. Ashwin and Jadeja thrive on sub-continental wickets and Dhoni is at his captaining best when he has slow bowlers to play with.
Yuvraj Singh and Suresh Raina can chip in with a few slow-ball overs, while Pandya can do the same with a bit of added pace as well. If Negi comes in, he will provide another spin option for Dhoni to use.
The only bowling concern, going into the World T20 – not the Asia Cup – is the fact that Mohammed Shami is still recovering from injury. With the pacer ruled out of the Asia Cup – Bhuvneshwar Kumar was named as his replacement – Dhoni will have to deal with a bowler who hasn't had any cricket for nearly a year when/if he comes in for the World T20.
But, that is something for Dhoni to worry about in a couple of weeks' time. For the here and now of the Asia Cup T20, this is a pretty well-rounded squad, with pretty much all bases covered.
India squad for 2016 Asia Cup T20: MS Dhoni (C), Shikhar Dhawan, Rohit Sharma, Virat Kohli, Suresh Raina, Yuvraj Singh, Ajinkya Rahane, Ravindra Jadeja, R Ashwin, Pawan Negi, Harbhajan Singh, Hardik Pandya, Ashish Nehra, Jasprit Bumrah, Bhuvneshwar Kumar.