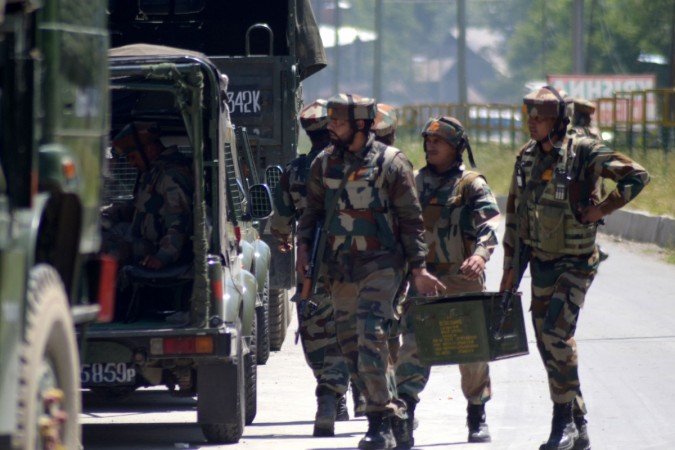 India sent a strong message to Pakistan on Monday at the United Nations Human Rights Council (UNHRC) asking it to dismantle the terrorist organisations breeding on its turf instead of "internationalising" the Kashmir issue.
India's statement at the international platform came a day after four terrorists from Pakistan entered an Indian military base camp in Uri, Jammu and Kashmir, on Sunday and opened fire on the soldiers with Ak-47s and threw grenades at them. The assault killed 18 soldiers who were sleeping in the camps and around 30 were critically injured. A high-level meeting was called on Monday where the Prime Minister was briefed about the attack. The meeting concluded with the decision that India will isolate Pakistan at all international forums.
Standing firm on its decision, India also called upon the Council at the 33rd Session of the UNHRC to urge Pakistan to terminate all the cross-border infiltration and stop acting as an epicentre of terrorism. India also pointed out that the freedom enjoyed by certain terrorists like Hafiz Saeed and Syed Salahuddin in Pakistan shows the nation's "active support for such personalities."
"It is time that moral and material support provided by Pakistan to the perpetrators of this continuing heinous violence on the Indian soil should attract this Council's attention," India said.
India also spoke against the human rights violation in the Pakistan-occupied-Kashmir (PoK) and other parts of Pakistan, including Balochistan. The country said that the situation in these areas is affecting the stability of the entire region.
"The people of Balochistan, amongst other provinces, have been waging a battle with Pakistan for decades and a bitter and brave struggle against their daily abuse and torture."
India also said that it believes in the policy of "zero tolerance" for terrorism and it is also an international obligation to stand up for it too.
"Religious and sectarian minorities such as Hindus, Christians, Shias, Ahmaddiyas, Ismailis and others continue to face discrimination, persecution and targeted attacks in Pakistan. Places of worship belonging to minorities have been destroyed and vandalized. Blasphemy laws remain in force and are disproportionately used against religious minorities."
The nation also called upon the Council to urge Pakistan to vacate from the PoK region.
"We, once again, ask Pakistan to stop inciting and supporting violence and terrorism in any part of India and refrain from meddling in our internal affairs in any manner. We call upon the Council to urge Pakistan to fulfil its obligation to vacate illegal occupation of Pakistan-Occupied-Kashmir," India added.