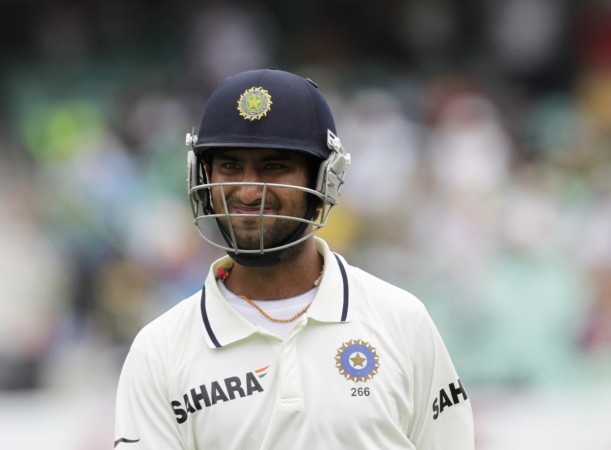 Cheteshwar Pujara is currently leading India A in the two Test series against Australia A at the MA Chidambaram Stadium in Chennai, and the batsman knows the importance of making an impression.
There is no doubting Pujara's talent, but the right-hander has to be consistent and score some big runs to make it in the starting eleven, for there are a number of contenders in the Indian middle order in the Test team.
Pujara has been decent with the bat whenever he has been given a chance, but has failed to come up with big scores overseas.
Players such as Rohit Sharma, Ajinkya Rahane, after having a decent spell with the bat for India, have an edge in selection over Pujara. Rohit, who got the nod over Pujara in the one off-Test match against Bangladesh last month, is seen as the batsman's biggest competitor even if the Mumbaikar is yet to convince in white clothing.
While some feel Rahane is Pujara's biggest competition, the Rajasthan Royals batsman has been consistent with the bat on the tour of Australia prior to the World Cup. He also scored 98 runs against Bangaldesh in the only Test match at Khan Shaheb Osman Ali Stadium in Fatullah.
But, Pujara is not worried about competition, as he just wants to focus and improve upon his game.
"I think I should focus on improving my game rather than worry about my competitors. At the end of the day, you want to play for Team India and your goal is to win as many matches as possible. I will work my way out and my chance will come. I just need to be patient," The Times of India quoted Pujara as saying.
Prior to the India A Test against Australia A, he said that he has not brought a lot of changes in his batting.
"I haven't brought about any major changes to my batting. It's more about mental preparation and correcting a few things which will help me improve my batting," said Pujara.
Pujara is under safe hands at present with Rahul Dravid being the coach of the Indian A team. Many claim Pujara to be the next Dravid, but the Saurashtra batsmen is yet to justify that tag consistently.