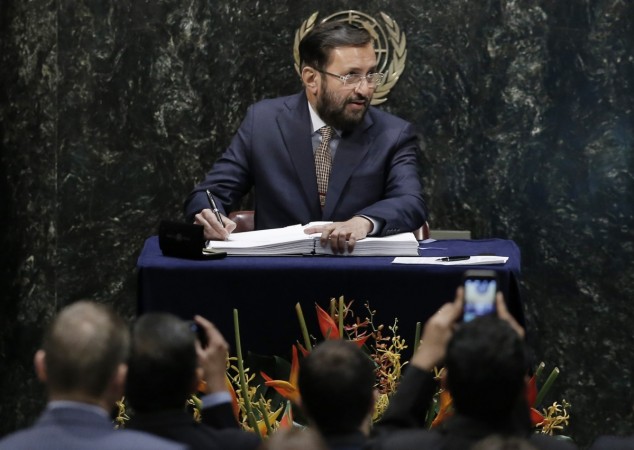 India signed the historic Paris climate agreement with 175 other nations in a high-level ceremony at the UN General Assembly hall on Friday, reported the Press Trust of India. The agreement brings together developed and developing nations to commit to combat global warming by cutting down their greenhouse gas (GHGs) emissions.
India's environment minister Prakash Javadekar signed the agreement at the high-level ceremony, which was hosted by UN Secretary-General Ban Ki-moon. The ceremony also set a new record for the highest number of nations signing the international treaty in one single day, surpassing a nearly 35-year-old record set in 1982 when 119 countries signed the Law of the Sea Convention.
The Associated Pressreports that each country has set its own target for reducing emissions of carbon dioxide and other GHGs. The targets are not legally binding, but the countries are bound to update them every five years.
India has consistently said the burden of mitigating and fighting the climate change needs richer nations to shoulder more responsibilities. On its part, the country has announced plans to quadruple its renewable power capacity to 175 gigawatts by 2022. The country has sought to achieve this by capacity addition of 100 gigawatts of photovoltaic energy, 60 gigawatts of wind power, 10 gigawatts of biomass and five gigawatts of hydro projects.
The Paris climate accord has brought all countries to agree for a sustained action to limit global temperature rise to below 2 degree Celsius, and to strive for a limit of 1.5 degrees Celsius.