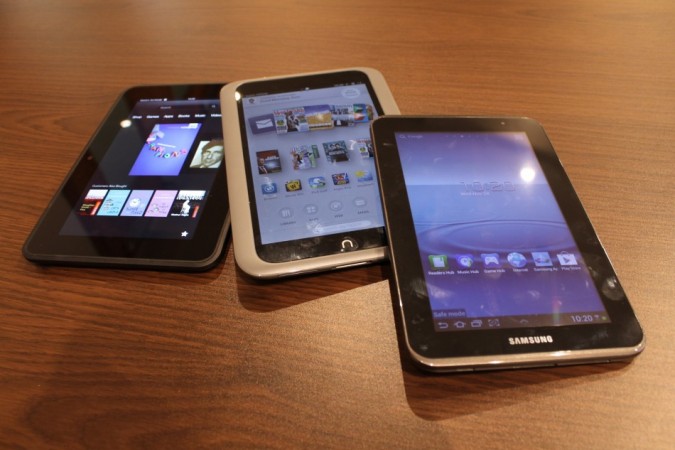 The term 'tablet PC', first coined by Microsoft in 2002, seems to be the current hot topic of the Indian technology market. According to a new report released by the Cyber Media Research (CMR), India has sold 3.11 million units of tablets for the year of 2012.
The country has sold 1.09 million tablets in the fourth quarter of 2012 alone, an estimated 35.3 percent of the total sales.
"The year 2012 and particularly the last two quarters (3Q 2012 and 4Q 2012) were significant for the India tablets market. We have seen the market for these devices grow substantially in 2012, particularly in the second half which made up for over 70 percent of the total sales," said Faisal Kawoosa, Lead Telecoms Analyst, CMR talking about the tablet sales in the country.
The list of tablet sales has been dominated by South Korean tech giant Samsung with 25.1 percent share, followed by Micromax and Apple with 14.3 percent and 9.1 percent market share, respectively. The report also said that 16.5 percent of the tablet market in 2012 was contributed by the Phablets and the sales of Phablets are expected to rise in the coming years.
"Samsung has been able to maintain the lead in the market only because of the first-mover advantage with the Galaxy Note and the Galaxy Note II. But this is not a sustainable strategy in the long term, as it has resulted in creation of the new 'phablet' form factor, attracting competitors at both ends of the price spectrum to follow suit. With the entrance of Apple at the top end and multiple Chinese and Indian players at the entry-level, the phablet segment is only going to see increased competition in the foreseeable future," said Tarun Pathak, Telecoms Analyst, CMR.
In the case of 7-inch screen tablets, Indian manufacturer Micromax leads with 17.07 percent share, followed by Apple and Samsung with 10.88 percent and 10.39 percent, respectively.