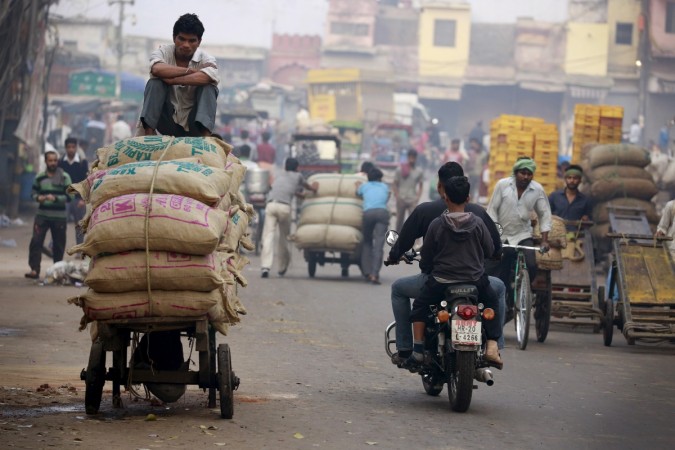 India leads the world in modern slavery with 18.35 million people trapped as bonded labourers, beggars, human traffickers, child soldiers and sex workers, a research report showed on Tuesday, adding that an estimated 45.8 million people are victims of modern slavery across the world.
Press Trust of India (PTI) reported that the Global Slavery Index 2016 report released by Walk Free Foundation, an Australia-based human rights group, stated that an estimated 45.8 million people, including women and children, are subject to some form of modern slavery in the world, compared to 35.8 million in 2014.
The figure includes 1.4 percent of the country's population, the Hindustan Times reported.
Walk Free Foundation co-founder Grace Forrest was quoted by the daily as saying: "Existing research suggests all forms of modern slavery continue to exist in India, including inter-generational bonded labour, forced child labour, commercial sexual exploitation, forced begging, forced recruitment into non-state armed groups and forced marriage."
While India has the highest number of people trapped in modern slavery, North Korea has the highest incidence at 4.37 percent of the population, and also the weakest government response to deal with the situation.
The last report in 2014 had stated that 14.3 million people in India were victims of modern slavery, PTI reported.
According to Agence France-Presse (AFP), the report compiled information and statistics from around 167 countries and conducted 42,000 interviews in 53 languages to determine the prevalence of the issue and the measures taken by different governments across the world to curb the problem.
There has been a 28 percent increase in the number of victims of modern slavery, which refers to situations of exploitation that an individual cannot leave due to threats, violence and coercion, abuse of power or deception. They may be held in debt bondage on fishing boats, against their will as domestic servants or trapped in brothels.
As per the PTI report, prevalence of slavery was found in all the 167 countries, but Asian countries occupy the top five positions – India (18.35 million), China (3.39 million), Pakistan (2.13 million), Bangladesh (1.53 million) and Uzbekistan (1.23 million).
The report also checked government response to the problem and found that around 124 countries have criminalised human trafficking according to the UN Trafficking Protocol and 96 countries have developed national action plans to coordinate government response.
The nations with the lowest incidences of modern slavery, according to their population, are Luxembourg, Ireland, Norway, Denmark, Switzerland, Austria, Sweden and Belgium, the United States, Canada, Australia and New Zealand.
The report, according to PTI, highlighted that while India tops the world in modern slavery, it had made significant progress in introducing measures to deal with the situation.
PTI quoted from the report: "It has criminalised trafficking, slavery, forced labour, child prostitution and forced marriage. The Indian government is currently tightening legislation against human trafficking, with tougher punishment for repeat offenders. It will offer victims protection and recovery support."