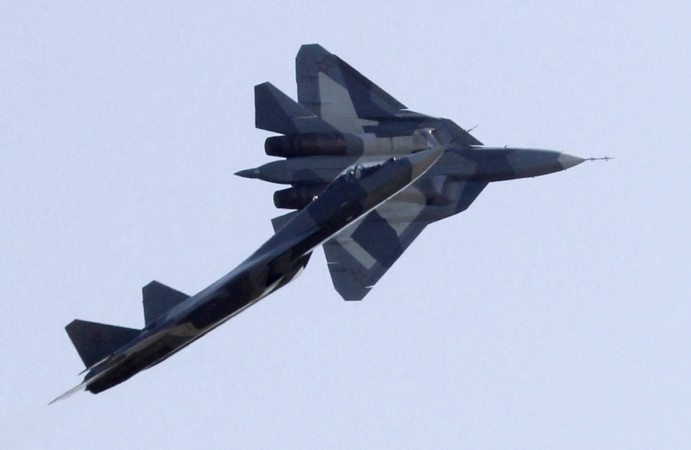 As India looks to de-hyphenate its recent bonhomie with the U.S. in defence co-operation, reports indicate that it has made some strides in restarting stalled defence co-operation project deals with its old friend, Russia.
Vital defence co-operation projects with Russia -- like the joint development of the futuristic fifth generation fighter aircraft (FGFA) and Kamov Ka-226T light utility helicopters -- have not moved ahead after being stalled. But now these projects were "well on track," the Times of India reported, quoting defence ministry sources.
India appears to be bringing everything to the table, as both the countries are set to discuss acquisition of five S-400 Triumf advanced air defence missile systems and possible leasing of a second nuclear submarine, apart from the projects mentioned above.
Sergey Goreslavsky, deputy director of state arms exporter Rosoboronexport clarified that India is consulting Russia on possible contract for S-400 Triumf missile systems.
"The Indian defence ministry official's comments published by some Russian and Indian media of an already signed contract on the supply of S-400 Triumf are not true. These are only consultations so far and there is no decision on the number, much less the value, of the possible contract," said Goreslavsky to Sputnik.
All these would be part of the 16th meeting of the India-Russia Military Technical Cooperation Working Group, held on Aug. 7 and Aug 8. This meeting will be headed by director-general of defence acquisitions from the Indian side.
Additionally, India's defence production secretary will be co-chairing meeting between the two countries regarding shipbuilding, aviation and land systems.
This is seen as a balancing act by India, which recently signed Logistics Exchange Memorandum of Agreement (LEMOA) with the U.S., which many billed as a defence pact.
Moreover, Indian and Russian soldiers will participate in the upcoming "Indra" exercise in Vladivostok from Sept. 22 to Oct. 2.
"Russia was worried whether India wanted to continue complex projects like the FGFA. We have expressed our keenness to ink the final R&D design contract for the Indian 'perspective multi-role fighter' (based on the Russian FGFA called Sukhoi T-50 or PAK-FA) in 2016-2017," said the source.
However, one project that will not see the light of the day is the multi-role transport aircraft (MTA), which was supposed to be a joint development project. India voiced its concerns against the proposed project's cost-viability, delivery timelines and inability to meet India's high-altitude needs.
Goreslavsky was also quoted as saying that Russia has supplied India with military hardware worth $65 billion since 1960.