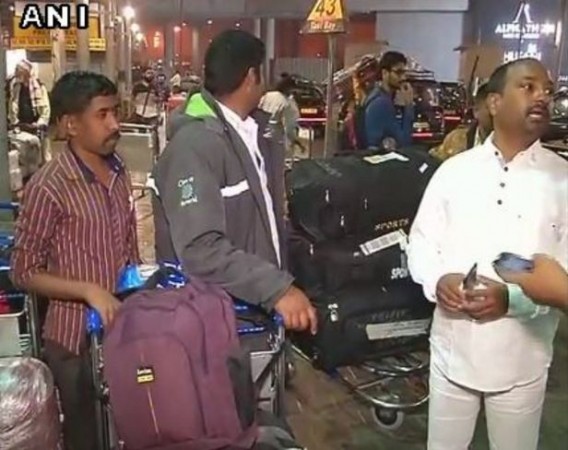 On Monday (April 3), 33 Indians who were stuck in ISIS-captured Erbil in Iraq, arrived in India after the Indian government put in efforts to rescue them. The rescued people claimed that they were duped by their agent with the promise of employment in Iraq and that there were more people like them still stranded there.
Also Read: Pakistan releases 173 Indian prisoners
"Earlier, 35 people were rescued and came back to India and this time we are 33. The agent deceived us by promising us jobs and took us to Iraq. More people like us are still there," said a rescued person. They arrived at Indira Gandhi Airport (IGI) this morning.
While 11 nurses from Kerala had been earlier evacuated from conflict-hit city, Kirkuk, Iraq, the Indian government is still trying to rescue Indian Catholic priest Father Tom who was abducted by ISIS some months ago in Yemen.
Iran government releases 15 Indian fishermen
This weekend, the Iran Government released 15 fishermen from Tamil Nadu who were captured last year on October 22. Sushma Swaraj took to Twitter and said that she was happy to inform that Iran has released the 15 fishermen.
They used to work in Bahrain and were arrested on their way back to Sharjah.
Last month, DMK MP Tiruchi Siva, during a Rajya Sabha meeting raised the issue of the ordeal of Indian fishermen in Iranian jails.
Siva said: "About 37 of them are currently in the custody of the Iranian government for straying into the country's waters. Five of them were working in Saudi Arabia, 15 in Bahrain, and the remaining in Dubai."
"After spending a few days in jail, they were all shifted to boats in two ports, Kish Island and Bandar Abbas, where they remain under strict surveillance of the authorities with very little food and water," he added.
The Indian Embassy in Bahrain and the employers had intervened, and had reportedly paid Rs 10 lakh per boat for their release.