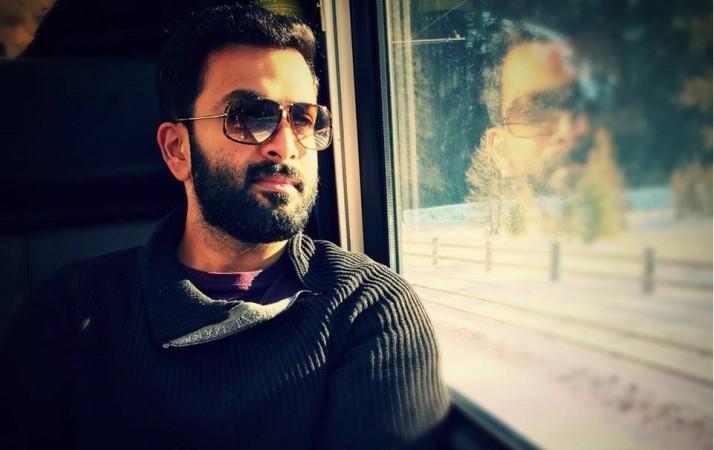 People across India have praised Malayalam superstar Prithviraj Sukumaran for his attack on Indian men who objectify women and for his decision not to play a misogynist role in his forthcoming movies.
The Malayalam actress, who was kidnapped and harassed recently, returned to the sets of her upcoming film on Friday and started shooting exactly a week after the ordeal. Her courage left her fans and colleagues speechless. Prithviraj took to his Facebook page on Friday to praise her exemplary courage.
In his inspiring post on Facebook, Prithviraj lauded the actress for her courage to return to shooting. He also vow to never act in movies that glorify misogyny. "Today..she makes a statement..a statement that will echo through time, space and gender..that no one or no incident has control over your life but YOU! A statement that will now be part of counselling sessions and pep talks around the world. A statement that you my friend..are making in a million unheard voices!" read portion of his post.
Prithviraj's post on Facebook has received massive response with over 52,000 people liking it and 13,387 people sharing it on their timelines. His moving note on her courage has also got nearly 3,000 comments. Many across the country were impressed with his pledge and they opine that there should be more men to follow his him. Here are some unique replies for his Facebook post:
Radhika Gopakumar: Loved this! Especially the part where you owned up with humility, that you have also done characters which glorify misogyny. As I've mentioned in a blog of mine on how Malayalam male protagonists have become much more gentlemanly now, I was always upset with the line from "Chocolate" - "Kettu kazhinju kittanulla thallil ninnu onnu kurachotte". Every actor talking about such things and striving to make a change would definitely help a lot with moulding mindsets of at least the next generation. Thanks for this! :-) And kudos to the brave girl who rethought her original decision and came back in front of the camera so soon. Truly an inspiration!
Sindhu Haridas: Well said Prithviraj. I appreciate your decision to not accept such misogynist roles. When i read somewhere about you being tagged along with the megastars for doing such macho anti woman roles i felt bad. So this post comes as a pleasant relief. If the young actors who have their clout in the industry decide on this a lot of changes will come in the attitude. And our support is with her. Go on!!!!!
Anu Hanish: Applause Prithviraj!Always felt to an extent, the movies are at fault! Especially in India, where kids from age 2 or even earlier are allowed to watch any kind of movie! From this tender age, they grow up thinking or misinterpreting misogyny or any other kind of violence is being celebrated heroically, not being able to differentiate between the bad and the good. Well again, movies will be made. But there should be stringent measures to be adopted where a movie should be rated accordingly for its suitability for different types of audiences.
Nalini TA: We'll follow u on that part of not supporting misogyny in ur movies. All of u male superstars stand tall on the shaky pedestal of women bashing in all ur movies. Show us one hero who has not done this...Ur fans follow your action's on-screen and want to emulate you, but offscreen all of you profess love and respect for women in your life. This is pure hypocrisy and we cant help but take your words with a pinch of salt.
Arya Raj: Well said prithvi..misogynist attitude of film industry should be changed..not only film industry but the society should come out of conservative thoughts.RESPECT is the word which we should learn from the grass root of family.Children must see a father who respect, love and care their mother not a father who treat their mother as slave at the foot. A girl must be protected and valued as a treasure. Men are supposed to respect women because she is the most intricate and bold creation from God.
Tripti Bipin: A whole lot of respect for her ! And I hope u will stand by your words! Respect for you too. It was beyond my comprehension why such misogyny promoting movies were made n why the young educated gen was mouthing these words, had lost all hope. But I hope the other young men in the industry too follow ur path for the better of this society. Thank you for starting a change in the right direction, this was long pending.
Preeta Nair: Bravo! ! I hope ur sentiments echoes in to countless ears and keep hammering every misogynist who couldn't careless for women in their family too .. we need more men like u to take this humanitarian approach forward and be a source of motivation and moral support to the girl to put in her best performance in front of the camera today ... my best wishes always
Bartosz Czarnotta: Beautiful statement. I appreciate your humility and honesty, Rajuetta. We all stand with Bhavana
Pearle Maaney: This Post Just Made me so happy and I'm feeling so strong as a woman after reading this. Thank You Prithvi for being what you are.
Dipty Lawrence: We need more men who are bought up like you...men who have values instilled in them...men who have the courage and say that their wives/ mother are so much more than they ever could be....men who have the spine to stand up for what is right and more essentially know what is right.... * fan of the person you are*
Jobina John: Prithvi the Real Star!!! Ur mom should be the proudest mother in the world! Hats off to her for raising such an amazing human being. Respect to u for inspiring so many of ur followers!
Roshny Thomas: May there be more men like you!! We need more men like you who would stand by women in their worst hours and not pull them down.!! And more power to the gutsy fighter.. such an inspiration!!