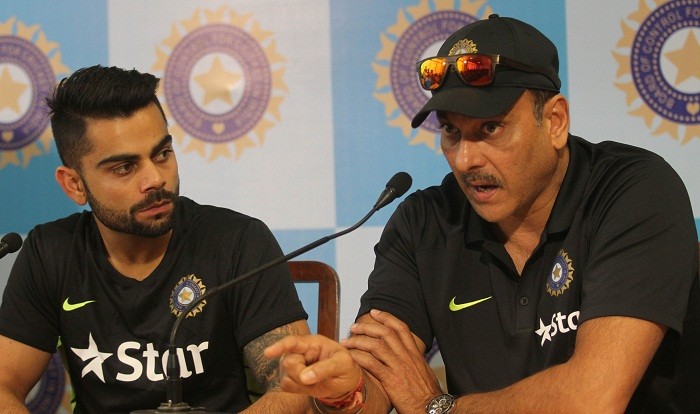 The current crop of Indian cricketers seem to be content with Ravi Shastri donning the coach's hat (or team director's hat), which has helped him keep the job until the T20 World Cup in India next year.
Ever since Duncan Fletcher's exit after the 2015 ICC World Cup in New Zealand and Australia, Shastri has shouldered the responsibility, and the team have been doing fairly well, which has prompted the BCCI to allow him a longer run with the Indian team.
Shastri was the Team Director of the Indian cricket team during their tour of Australia and then the ICC Cricket World Cup 2015 with Fletcher as coach.
"Basically, the coaching job is done by Ravi Shastri and he has been asked to continue till the World T20. Shastri has been entrusted with the job and the players are also happy with him. I think he is doing a very good job and he can continue," IPL chairman Rajeev Shukla told reporters.
"If anything needs to be done, the advisory committee comprising Sourav Ganguly, Sachin Tendulkar and VVS Laxman will be taking a decision what exactly should be done."
Virat Kohli, who captains team India in the Test format, has been very vocal regarding the coach. Kohli wants Shastri and has even urged the BCCI to give him the permanent role. Both Kohli and Shastri have been aggressive in their approach, which seems to be working well for team India at present.
Apart from Shastri getting on with the players, the Indian team's performance has seen an upward curve as far as their results are concerned. Right from the World Cup, where they reached the semifinals of the competition, India's performances have been impressive.
India also won a series against Sri Lanka recently in the island nation, after a gap of 22 years, which has strengthened Shastri's position in the team.
However, the biggest test lies ahead for Shastri and co, as India are set to host South Africa for the next two months, which comprises 3 T20Is, 5 ODIs and 4 Test matches.