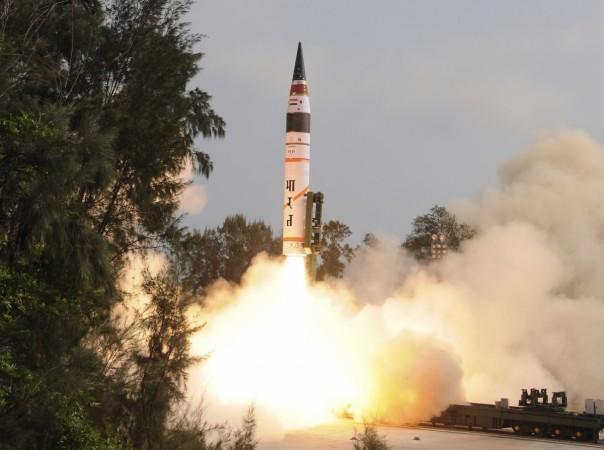 The Indian media has felt ecstatic over the news that New Delhi is modernising its atomic arsenal with an eye on rival China with which it is having a serious standoff in Doka La in Sikkim sector. The July-August issue of digital journal After Midnight has said that India is now developing a missile which can target all of China's land from its southern bases, the Press Trust of India reported.
The name of the journal is misleading in first place
The news is misleading in the first place for the digital journalism one reported about is not called 'After Midnight'. It is the title of the July-August issue of the Bulletin of Nuclear Scientists, based out of Chicago, US, and the latest issue deals with various aspects of nuclear warfare and there is a Nuclear Notebook in the issue penned by Hans M Kristensen and Robert M Norris titled 'India's nuclear forces, 2017'. The notebook speaks in depth about India's current programme of developing nuclear weapons and that it is in the process of developing a missile which can target almost all of Chine from southern bases.
The article has also indicated that though India's traditional nuclear deterrence has been more aimed at Pakistan, its modernisation process says that its focus is getting more shifted to the future strategic relationship with the Chinese. In a nutshell, this article is a technically explained piece by two notes nuclear scientists and doesn't really mean that India is ready to attack China with missiles.
These specialised pieces are not meant for gullible masses
There is no need to add fuel to the undying tension between India and China by means of publicising these reports. They are not really meant for public consumption. India's news channels, however, find in them easy-digests for the people so that the hyper-nationalism and jingoism continue unabated.
Over-democratisation of security policy is not a healthy precedent but in current times, it is precisely what is happening. Whether India is developing missile to cover longer distances is not for the media and the common man to discuss in the open but since there is no regulation of the media in this country and hyper-nationalism eventually helps the right-wing rulers of today, these reports published by specialists get a tacit approval to become a spiced-up food for the masses.
We need to put a stop to this unhealthy practice. Missiles are meant for deterrence and not destruction, especially if it comes to two nuclear powers, unless of course they settle for MAD (mutually assured destruction)-ness.