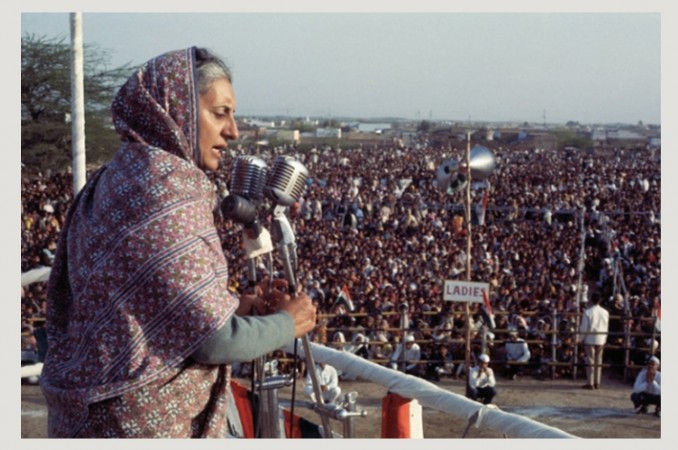 Indira Gandhi, the first woman prime minister of India was assassinated on this day 34 years ago by two Sikh bodyguards in Delhi. The assassination is considered to be the outcome of Operation Blue Star in Amritsar, a military operation ordered by Indira Gandhi in 1984.
Here are a few facts about India's Iron Lady:
Indira Gandhi was the only child of India's first prime minister Pandit Jawaharlal Nehru. She was born on November 19, 1917, in Allahabad, Uttar Pradesh. She completed her metric from Pune University and went to Shantiniketan in West Bengal. She later went to Switzerland and Oxford University in London for higher studies.
Indira Gandhi got married to Parsi journalist and politician Feroz Gandhi in 1942. They had two sons Rajiv Gandhi and Sanjay Gandhi.
Indira Gandhi was elected as the president of the Indian Congress Party in 1960. After the death of Nehru in 1964, she was appointed as a member of the Rajya Sabha and became the Minister of Information and Broadcasting in then-PM Lal Bahadur Shastri's government.
After the death of India's 2nd PM Lal Bahadur Shastri in 1966, she succeeded him and became the first and to date the only female prime minister of India. Indira Gandhi holds the position of 2nd longest serving PM of India with 11 years, 59 days in power while her father holds the first position with 16 years, 286 days of experience.
In 1969, Indira Gandhi nationalised 14 commercial banks of the country which expanded credit flows to farmers and small businesses.
Indira Gandhi declared a state of emergency in India from 1975 to 1977, for controlling the internal disturbance in the country. During that period, the constitutional rights of people and freedom of speech were restricted. A strict censorship was also placed on media. Her son Sanjay Gandhi began "gruesome campaign" to forcibly sterilise men without their consent. During the emergency state, around 6.2 million Indians were sterilised.
In 1984, she enacted Operation Blue Star. On orders of Indira Gandhi, the Indian military carried out the operation within the premises of Golden Temple in Amritsar. Under the operation, the Sikh extremist religious leader Jarnail Singh Bhindranwale and his group of militants were killed. Nearly 1,000 people died in this operation and the Golden temple was heavily damaged.
Following this, she was assassinated by her Sikh guards Beant Singh and Satwant Singh On 31 October 1984. They fired 33 bullets at her, of which 23 passed through her body and seven were trapped inside.
On her 34th death anniversary, people across the country are paying tribute to her on Twitter.
Here are a few tweets:
Tributes to our former Prime Minister, Mrs. Indira Gandhi on her death anniversary.

— Narendra Modi (@narendramodi) October 31, 2018
Remembering Dadi today with a deep sense of happiness. She taught me so much and gave me unending love. She gave so much of herself to her people. I am very proud of her.

— Rahul Gandhi (@RahulGandhi) October 31, 2018
"...I shall continue to serve until my last breath and when I die, I can say, that every drop of my blood will invigorate India and strengthen it."

My humble homage to Smt. #IndiraGandhi who lived and died for the unity and integrity of the nation. pic.twitter.com/iPnQRzXYvt

— Randeep Singh Surjewala (@rssurjewala) October 31, 2018
With serious threats, #IndiraGandhi was asked to remove all Sikh Officers from her security ring. Her response "I would not be worthy of being the daughter of the Indian Revolution, if I were to start suspecting people on the basis of their religion or community."

— Brijesh Kalappa (@brijeshkalappa) October 31, 2018