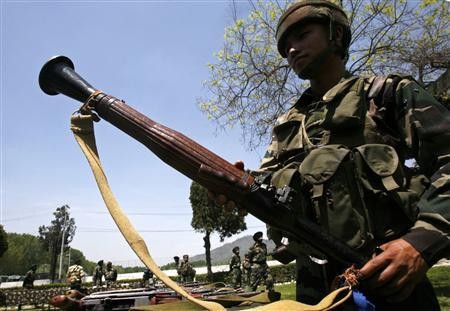 The UN military observer group in India and Pakistan (UNMOGIP), an establishment of the United Nations peacekeeping mission that mediates issues concerning the dispute over Jammu and Kashmir, will launch an investigation into the ceasefire violations along the state's Line of Control (LoC).
According to IANS, UN Secretary General Ban Ki-Moon's spokesperson Martin Nesirky said the Pakistan army sent a complaint to the observer group accusing Indian troops of attacking its Sawan Patra checkpost on Jan 6. One Pakistani soldier was killed and another was injured in the firing.
The probe comes in the wake of the killings of two Indian soldiers during an intense gun battle in Poonch district on Tuesday. One of the soldiers was found brutally mutilated. Pakistan denied the involvement of its troops in the killings and their intrusion in the Indian-administered area.
Nesirky said that neither the Indian nor Pakistani military filed a complaint regarding Tuesday's incident.
Meanwhile, the US State Department is urging the two nations to take up open dialogue than third party intervention to work out the situation.
"Our view is that India and Pakistan have made pretty good progress in recent years, in working through a number of difficult issues, including opening of the trade relations, etc, that they are now engaged at a high level on these recent incidents," said State Department spokesperson Victoria Nuland, PTI reported.
"If they can work it out themselves, that's obviously best. If both parties were interested in support from the UN, we'd obviously support that as well. But at the moment, we're urging them to talk to each other," she added.
The UNMOGIP is also asking both sides to resolve the tensions through the process of dialogue. "UNMOGIP is aware that the Pakistan Army and Indian Army are in contact via the hotline and urges both sides to respect the cease fire and de-escalate tensions through dialogue," said Martin Nesirky.