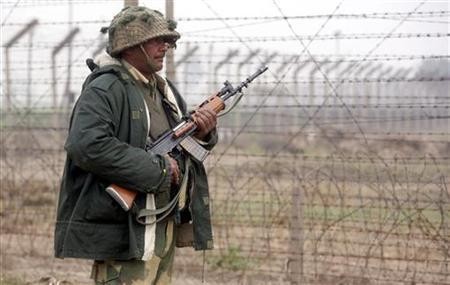 India and Pakistan on Monday failed to make breakthrough at the brigade-level flag meeting over the cross-border tensions in Kashmir's Pooch sector.
According to reports, the meeting held in Chakan Da Bagh near the Line of Control (LoC) in Poonch had lasted for 30 minutes. Commander of the 10th Krishnaghati Brigadier TS Sandhu, accompanied by several field commanders, led the meeting with his Pakistani counterpart to discuss the issue of ceasefire violations and lodge a protest against the recent killings of two Indian Jawans in the district.
India had accused Pakistani troops of brutally killing the soldiers belonging to the 13 Rajputana Rifles regiment during a cross-border firing on Jan 8.
Conveying outrage over the violations of the decade-long ceasefire agreement, Indian authorities at the flag meet refused to back down from retaliatory attacks until an apology was issued.
Indian Army Chief General Bikram Singh had earlier warned Pakistan of retaliation in the event of any attack on army posts in Indian-administered areas.
Believing the Jan 8 incident as "premeditated" attack, Singh said, "I expect my commanders to be aggressive and offensive in the face of firing. We will retaliate to Pakistan's attack at a place and time of our choosing," reported Reuters
Indian authorities during the meet also demanded the return of the decapitated head of one of the slain soldiers which they accused Pakistani troops of holding back, The Hindu reported.
Demanding Pakistan's assurance that no such unprecedented attacks or acts of such crimes take place in the future, Brigadier Sadhu insisted the other side to respect the ceasefire that the two Asian neighbors had agreed to in November 2003.
Pakistan's response to India's terms was not immediately known.
Dampening any expectations of a resolution over the killings and shootout at LoC, defence analyst Bharat Verma said that cross-firing and armed infiltration into Indian territories will resume as non-admittance to the allegations and counter charges will be exchanged across across both sides.
"Pakistan will deny it and that will be the only discussion. India will warn, Pakistan will warn India. So, there will be charges and counter charges. The problem here is very simple. India does not export terrorism or create conditions for infiltration because we don't have any irregular forces to infiltrate into Pakistan. But whenever Pakistan tries to infiltrate its own people, the terrorists, into Indian Territory, India has to retaliate," said Verma, Rediff news reported.
"So, despite the flag meeting nothing much is going to happen. And again sometime later, there will be firing. And firing to defend ourselves because the infiltrators are coming in, which Pakistan will continue to do. So, it really doesn't matter and I don't think there is going to be a great deal happening with the flag meeting," he added.