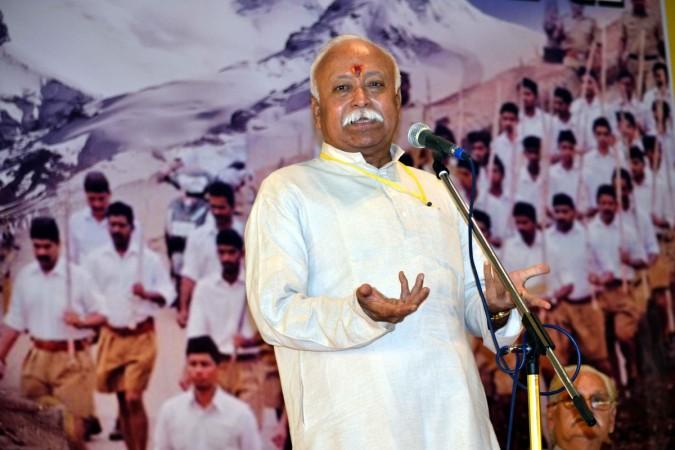 In another embarrassment for the BJP, RSS chief Mohan Bhagwat on Saturday courted a fresh controversy by challenging opposition parties to bring in a law for banning forcible conversions. Bhagwat also made a strong pitch for Hindu awakening by describing India as a Hindu rashtra (nation), reports The Times of India.
"There is no need to fear. We are in our own country. We are not intruders or infiltrators. This is our own country, our Hindu 'rashtra' (nation). A Hindu will not leave his land. What we have lost in the past, we will try to bring it back. No one should be afraid of Hindus rising. Those who are raising their voice against the rise of Hindus are selfish and have vested interests. And if they oppose, there will be confrontation," said Bhagwat during VHP's first-ever public rally in West Bengal.
"We must remember that the confrontation is for the ills done to our ancestors," said the RSS chief, adding, "Hindus have been tolerating crimes by Bangladesh or Pakistan. Our God says after 100 crimes, you must not forgive any crime."
"Till the Hindus are here in India, the country is there. If Hindus are not there, then everybody living here will be in distress," said Bhagwat. He also went on to say that since Hindus don't convert, nobody should try to convert Hindus to other religions.
"We are trying to create a strong Hindu society. Those who strayed were lured away. They were looted from us. The world knows. Ab agar mera maal wapas aata hain, toh kaun si badi baat hai? (If now we are taking back our property, then what's the big deal?)," Bhagwat told the crowd, comprising of about 20,000 people.
Having a go at Samajwadi Party leader Mulayam Singh Yadav, VHP international working president Praveen Togadia said, "Mulayamji, you are known for taking an anti-national stand, but if you make an anti-conversion law we will support you."
Senior VHP leader Ashok Singhal was unable to attend the rally due to health reasons.