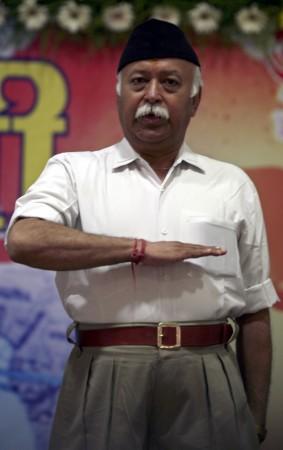 Rashtriya Swayamsevak Sangh (RSS) chief Mohan Bhagwat threw a fiery arrow at Prime Minister Narendra Modi's coronation of new Bharatiya Janata Party chief Amit Shah as the "man of the match" for the party's victory in the Lok Sabha elections, stating that the victory was the common man's mandate.
Probably unsettled by the increasing spotlight on Modi for BJP's victory and Shah's emergence as the new party leader, Bhagwat said at an event on Sunday that, "some people are giving credit to the party while others are giving credit to some individuals for the victory. But the organisation and the party were there earlier too, and so were the individuals. What happened then? It is the people who wanted change during the elections, who brought the party to power."
He even went on to say that if people are not happy, they would change the BJP government too in the next elections.
Bhagwat's statement could suggest a discomfort setting in between the Hindutva party and Modi, who started as an RSS pracharak before joining the BJP and then being sworn in as the Prime Minister this May.
RSS, the ideological parent organisation of the BJP, was reportedly against Shah taking over the reins of the party and had raised several questions over it.
"Should a BJP PM and party chief be from the same state, what about the court cases against Shah, will those be distractions as the BJP chief plans for a heavy election schedule stretching into 2017, should the next BJP head be from the South...the sangh was asking these sharp questions," a BJP leader had told The Economic Times.
Some reports suggested that RSS was against Modi pushing for Shah to become the party head, fearing it would put total control in his hands. "Complete control over the government and the party by one person would not be in the interest of the Sangh Parivar," an RSS official told Scroll.in.
RSS leaders had also been irked by all credit for BJP's victory being bestowed on Shah, as was the case on Saturday, when former party president Rajnath Singh and Modi virtually crediting Shah for the party coming to power.
"Didn't the party do similarly well in other states without Amit Shah? Can you deny the contributions of lakhs and lakhs of RSS workers in creating this magic for the BJP," the RSS offical noted.
Bhagwat Wants Indians to Be Called 'Hindus'
Bhagwat also sparked an impending controversy in his speech on Sunday, when he said that residents of Hindustan must be called Hindus, on the lines of how nationals of other nations such as Germany and England are called.
Stating that Hindutva was the only basis for keeping the India united, he said, "The cultural identity of all Indians is Hindutva and the present inhabitants of the country are descendants of this great culture".