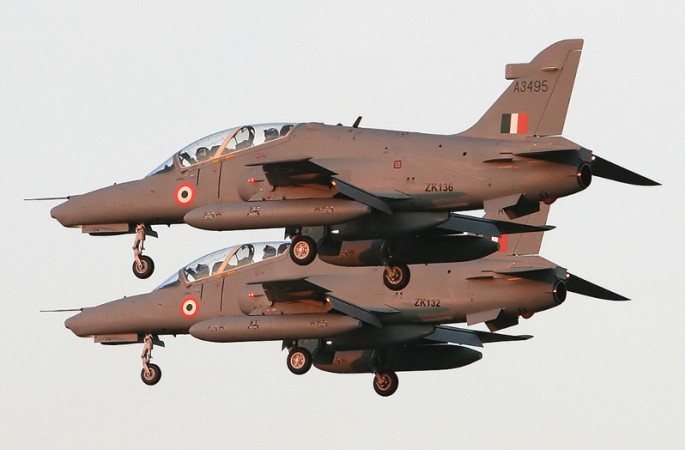 India is likely to increase its Hawk advanced jet trainer inventory by adding 32 more, after reports emerged of a possible order worth Rs 3,500 crore. The trainer is needed to meet the requirements of both Indian Air Force (IAF) and Indian Navy combat pilots.
The Hawk deal had been stalled because of aircraft pricing issue, but is now expected to move forward within few months. Hindustan Aeronautics Limited (HAL) license manufactures BAE's Hawk 132.
Since the initial order in 2004, India has received 123 such aircraft. Of the 32 new jets that are likely to be ordered, Navy is expected to get around eight.
IAF's Suryakiran aerobatic team is expected to receive additional Hawk jets as per its requirement.
The need for Hawk emerged since India lacks intermediate jet trainers, which are needed to train the country's combat pilots. The Hawk has been termed as India's primary advanced trainer.
The new order for Hawk jet trainers will keep the HAL's Hawk production unit running for a few more years.
Meanwhile, Air Chief Marshall Arup Raha put his trust behind the HAL's HTT 40 basic trainers that are being developed.
The Air chief has reportedly said that IAF would be inducting them in "large numbers soon." The IAF has given a commitment of purchasing at least 70 of these aircraft.
IAF currently uses Pilatus PC-7 MkII to train its pilots in basic pilot training capability. The Swiss company has delivered 75 aircraft and there is a requirement for 106 more. But defence minister Manohar Parrikar had reduced the number of Pilatus PC-7 to only 38, while the rest could be HTT-40.
HTT-40 made its first flight in May 2016.