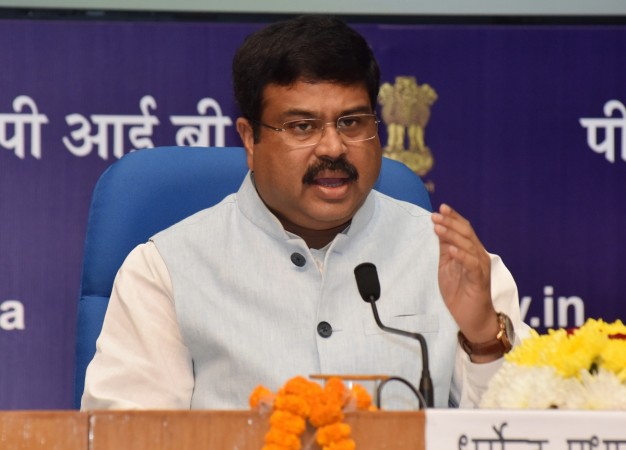 Over the next 10 years, India will attract investment opportunities to the tune of Rs 19 lakh crore ($300 billion) in the oil sector, Union Petroleum and Natural Gas Minister Dharmendra Pradhan has said.
"In the next 10 years, India is offering project scope of $300 billion (in hydrocarbon sector) looking into our future demand," Pradhan said in a media interaction at India Energy Forum organised by CERAWeek.
To stay abreast with country's growing energy demand, the government has set up an expert committee to receive advice on issues related to energy and plan a road-map for future, Moneycontrol reported.
The minister also highlighted that a Cabinet proposal is at the final stage for a gas platform for having market-driven prices.
Speaking on the gas platform which will provide marketing mechanism for the gas segment, Pradhan said, "Very soon we will be coming up with gas exchange platform. Foreign Direct Investment is a contentious issue in this sector."
The minister also explained that the basic idea is to put some component of domestic gas and import LNG on the new platform.
"We want to exchange (replace) the pooling mechanism of gas through a transparent exchange. We will be going to Cabinet very soon with detailed, nitty-gritty...how it will work," Moneycontrol quoted the minister as saying.
Speaking at the same forum, OPEC secretary-general Mohammad Sanusi Barkindo said that by 2040, India's oil demand wise by 150 percent to 10 mbd (million barrels a day) from current 4 mbd.
Barkindo further stated that the country's total share of global oil demand to would rise to nine percent, which is currently at four percent.
Pradhan explained that India will gradually aim to move towards a market-driven gas price. However, because of some priority sectors, the existing formula for gas pooling for various sectors would exist even after operationalisation of the exchange.
On the expert group, the minister said, "We are forming one internal think tank to advice on a regular basis on ministerial work primarily on technology and on the target set by the Prime Minister on how to reduce (oil) import dependence 10 percent."
The think tank will primarily advice on key issues like gas infrastructure and financial models of projects.