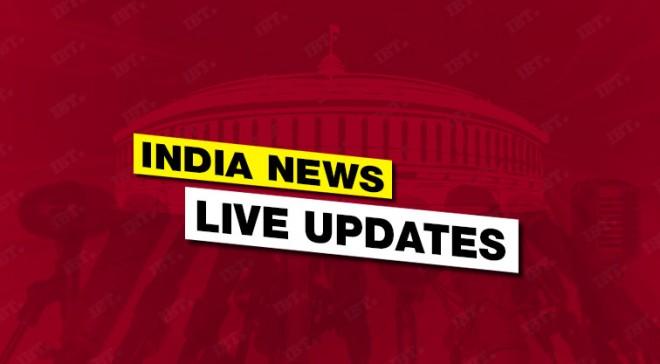 Read all live updates, breaking news from across India right here on International Business Times India:
Here are the live updates:
6:40 pm IST: Police and CRPF recover huge cache of arms and ammunition in Latehar district of Jharkhand during a joint operation; Naxals managed to escape
6:36 pm IST: Former Chief Minister of Karnataka and senior Congress leader SM Krishna resigns from Congress Working Committee and Congress Party
6:30 pm IST: Justice P Vishwanath Shetty sworn in as the new Karnataka Lokayukta
6:23 pm IST: NCB officers intercepted a South African national at Anna International Airport in Chennai and seized 1.075 kg of cocaine worth Rs 5 crore
6:09 pm IST: Fire breaks out at Goni-Khan Market in Srinagar. Six fire tenders at the spot
6:05 pm IST: All five army personnel, who got trapped when their snow track caved in, successfully rescued; presently under treatment
5:57 pm IST: ECI directs Cabinet Secretary to follow and ensure adherence of guidelines regarding Model Code of Conduct issued by EC to ensure level playing field
5:29 pm IST: BSF recovers huge haul of ammunition near border post in Daukey village at Indo-Pak international border in Punjab
5:20 pm IST: EC removes Haridwar's DM Harbans Singh Chug and SSP Rajiv Swaroop ahead of Uttarakhand Assembly Elections. SA Murugeshan will be the new DM and Krihna Raj VK will be the new SSP
5:13 pm IST: At least 10,000 crates of alcohol seized from two godowns in Bathinda in Punjab. The SDM is at the spot. An investigation is currently underway
5:11 pm IST: DRI officers seize 354 gold biscuits with foreign markings, weighing around 41kgs, from a flat in Kolkata
4:52 pm IST: Haridwar SDM Manish Kumar issues notice to Uttarakhand CM Harish Rawat for violating Model Code of Conduct, asked to reply within 48 hours
3:22 pm IST: BJP President Amit Shah to release BJP's manifesto for UP polls in Lucknow; UP BJP Chief Keshav Prasad Maurya and Yogi Adityanath also present
3:01 pm IST: Indian Films and Television Directors Association, in letter to Home Ministry, Venkaiah Naidu and Rajasthan CM condemn attack on Sanjay Leela Bhansali
2:53 pm IST: PM Modi's 'Mann Ki Baat' of January 29 has been cleared by Election Commission, say EC sources
2:45 pm IST: Alliance Air of Air India 9I 632 from Rajkot to Delhi diverted to Jaipur due to medical emergency after a woman suffered a cardiac arrest
2:26 pm IST: Film and TV Producers Guild of India writes to Centre seeking assurance on protection measures for fraternity people
2:16 pm IST: Shehla Masood murder case: Life imprisonment awarded to four, one acquitted
2:06 pm IST: Congress Vice President Rahul Gandhi speaking at a rally in Jalalabad in Punjab.
1:43 pm IST: Jammu and Kashmir: At least 5 soldiers trapped after snow track caves in at Kupwara district's Machil sector
1:25 pm IST: "Calling for ban on PETA India is akin to calling fr ban on a child protection org that saves children from illegal trafficking," says PETA
1:20 pm IST: Delhi: Two people fell in new Bawana Canal near Khera Kalan this morning. One has been rescued by passersby and the search for another is on
12:46 pm IST: PM Narendra Modi addresses annual NCC Rally in Delhi Cantonment
12:34 pm IST: Congress' earlier slogan of '27 saal UP behal' is now being concealed with paint in Lucknow after alliance with Samajwadi Party
12:25 pm IST: Collision between two cargo ships MT Maple carrying LPG and MT Dawn carrying petroleum oil lubricants (POL) off Ennore Port, Chennai at 4 am. Both vessels that collided are safe and no loss of life or property except for minor damage to the two ships
12:06 pm IST: "Competent board did Sunanda Pushkar's postmortem. We concluded that death is due to poisoning and is unnatural," Sudhir Gupta, Head Forensic Department at AIIMS
11:56 am IST:New Delhi: Mortar shell found in Vasant Kunj; NSG team on spot
11:50 am IST: Delhi Police Special Cell has arrested three persons with counterfeit new currency notes worth Rs 18 lakh
11:49 am IST: Shahdara District Police arrested one person with a fake Delhi Police identity card and a pistol, from East Delhi's Krishna Nagar
11:42 am IST: Honda WR-V to be launched in India in March; all we know so far
11:40 am IST: Hindu Yuva Vahini President Sunil Singh has said: "The BJP insulted Yogi Adityanath. The Hindu Yuva Vahini will field candidates on all seats [in Uttar Pradesh]." This directly counters what Adityanath had said earlier in the day.
11:05 am IST: People are now protesting in Mangaluru in Karnataka in support of buffalo-cart race Kambala.
10:05 am IST: Rajasthan HM GC Kataria says about the attack on sanjay Leela Bhansali by Karni Sena: "In such a case anger is instinctive, but it shouldn't be done outside purview of law."
He added: "Any action on the personal level is not right. A probe will be initiated into the matter."
10 am IST: A bus going to Kasipur from Cuttack in Odisha lost control and fell off a bridge near the Kutingaguda village in the Rayagada district of Odisha, resulting in injuries to 15 people.
9:30 am IST: Lokendra Kalvi, the chief of Karni Sena, which assaulted Sanjay Leela Bhansali in Rajasthan on Friday, has asked if the director has the guts to go to Germany and make a film against Hitler. Clearly, he has not seen Quentin Tarantino's Inglourious Basterds, which was not only filmed partly in Germany but also showed an alternate history where Hitler was assassinated, instead of the truth that he committed suicide.
9:10 am IST: Kambala protests are gathering momentum in Karnataka. People have gathered at Moodabidri to show their support for the traditional buffalo-cart race that has been banned by the Karnataka High Court.
7:50 am IST: Four people died in Ghaziabad early on Saturday in a collision between a car and an auto-rickshaw. Both the car passengers were saved by the airbag deploying, but all four people in the auto were killed.
7:40 am IST: The Hindu Yuva Vahini — a right-wing outfit founded by BJP leader Yogi Adityanath — is a non-political organisation and will not contest the UP Assembly elections, the yogi has said.
7:30 am IST: Heavy fog in Delhi has resulted in 20 trains arriving late, two being rescheduled and one cancelled altogether. Eight domestic and two international flights have also been delayed.