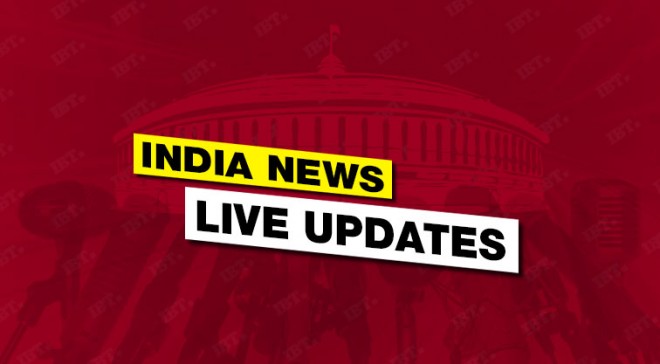 Read breaking news, live updates and much more from International Business Times India:
AIADMK MPs are expected to meet PM Modi today, with plea to allow Jallikattu for Pongal.
Here are all the live updates:
5:48 pm IST: Telangana's Nalgonda Police arrested one person for alleged sexual harassment of four girl students from a primary school.
5:30 pm IST: During two separate encounters in Bastar, five Naxals were killed and one jawan lost his life in Chhattisgarh.
5:29 pm IST: GO Airways flight from Delhi to Bagdogra made an emergency landing in Delhi after take off due to technical glitch. All 158 passengers safe.
5 pm IST: Unidentified gunmen open fire inside TMC's Kharagpur office in West Bengal.
4:52 pm IST: Woman travelling in SpiceJet Bombay-Varanasi flight complained of sickness, on landing in Varanasi was rushed to the hospital, declared dead
3:46 pm IST: A male deer injured by an arrow died due to delay of medical treatment by Forest Dept in Balrampur.
3:45 pm IST: Four persons arrested by Delhi Police for attacking a Police picket in Vasant Kunj that injured 2 Policemen, on the night of Jan 9.
3:34 pm IST: Reportedly 4088 missing persons/terrorists are still in Pakistan/PoK: J&K Government
3:32 pm IST: Himachal Pradesh: Death toll due to intense cold rises to 7 as Shimla recorded this season's lowest temperature of -3.2 degrees
3 pm IST: Two people died on the spot due to gas leakage from a factory in Jagdalpur, Chhattisgarh.
2:46 pm IST: Shoe hurled at Punjab CM Parkash Singh Badal during a Sangat Darshan in Lambi, Punjab. The shoe hit him and shattered the glass in his hand. One person has been detained.
1:37 pm IST: Madhya Pradesh: IT raids at Bhopal's Mayo hospital and Manoria hospital
1:33 pm IST: Allahabad HC reserves the judgement in Arushi Talwar murder case
1:29 pm IST: SC dismisses plea seeking its intervention to direct political parties to disclose name and identity of donor who gave money to the party
12:56 pm IST: West Bengal: Rajdhani Express has been blocked by TMC workers at New Cooch Behar Railway Station in protest against TMC MP Sudip Bandyopadhyay's arrest.
12:44 pm IST: Vijay Mallya sought three weeks time to file reply to SBI led consortium of banks who sought deposit of amount of 40 million dollars before SC.
11:35 am IST: AgustaWestland scam: Delhi HC issues notice to Gautam Khaitan on CBI's plea seeking cancellation of bail granted to him.
11:26 am IST: Soon NGOs could face criminal charges for misappropriating funds.
11:26 am IST: Kerala: Endosulfan victims see a ray of hope after the Supreme Court directs the government to compensate victims within three months.
11:25 am IST: Tizen-powered Samsung Gear S3 Frontier, Classic series launched in India; everything you need to know.
11:21 am IST: Bairavaa release in Kerala: Vijay's movie likely to cause huge losses to Kerala distributor.
11:20 am IST: Post demonetisation, World Bank cuts India's growth forecast to 7 percent.
11:15 am IST: Sanitation workers protest outside East Delhi BJP MP Maheish Girri's office over salary issue.
11:06 am IST: Chief Justice of India Jagdish Singh Khehar: "Vacancies of judges in the Supreme Court affecting Court's efficiency."
11:05 am IST: Hajipur RLSP MLA Lalan Paswan's line of questioning in front of people made these minors recount their friend's horror.
9:35 am IST: Himachal Pradesh: In last 24 hours Keylong in Lahul- Spiti recorded -11.4° C, Kalpa in Kinnaur: -8.6°C, Manali: -6.6°C, Shimla: -3.2° C
9:23 am IST: Five people were arrested after police busted an online casino running in the garb of game parlour in Krishna Nagar.
7:15 am IST: Police conducting a search operation seize 184 kg of gold from a van in Agra.
6:50 am IST: Delhi fog delays one international and five domestic flights' arrival and departure. The fog has also led to 11 trains being cancelled, 26 being delayed and seven being rescheduled.