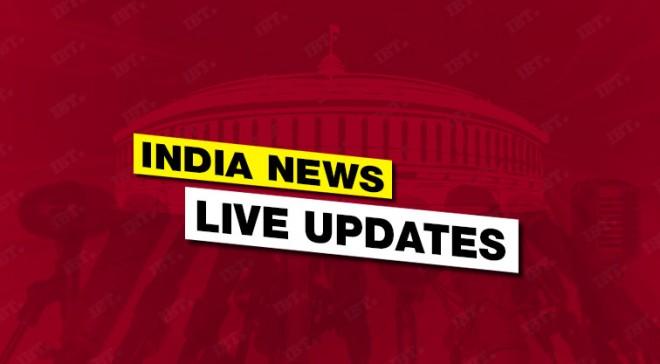 Read all live updates, breaking news from India right here on International Business Times India:
Here are all the live updates:
6:10 pm IST: IT department detects excess reporting of old specified bank notes (SBNs) to RBI by certain Cooperative Banks: IT sources
6:06 pm IST: Hyderabad: Police register a rape case against Film Producer Karim Morani
5:32 pm IST: "Tamil Nadu Chief Minister O.Pannerselvam to meet PM Modi tomorrow to urge ordinance on Jallikattu. He requests youth and protesters to give up their protest," says AIADMK.
5:11 pm IST: National Company Law Tribunal (NCLT) dismisses contempt petition filed by family firms of Cyrus Mistry against Tata Sons
4:41 pm IST: West Bengal BJP Vice President Jay Prakash Majumdar arrested for fraud in connection with TET exams, has been sent to three-day police custody
4:27 pm IST: Delhi airport custom officials seize gold from an Indian passenger who came from Bangkok. Gold was concealed in sandal sole
3:51 pm IST: Baba Ramdev wrestling match live streaming: Watch Yoga Guru vs Andriy Stadnik
3:45 pm IST: SYL Canal issue: Punjab govt sought more time to file detailed reply. SC asks both parties (Punjab and central government) to file reply in three weeks. Next date of hearing February 15.
3:38 pm IST: SC stays Allahabad HC's order which ordered demolition of Haldwani (Uttarakhand) Railway colony;asks petitioner to file fresh plea with HC
3:27 pm IST: Kerala: Directorate of Revenue Intelligence seized 2.76 kg Gold (concealed in 2 mixers)valued 84 Lakhs, from a passenger at Calicut Airport
3:17 pm IST: Finance ministry officials told Standing committee panel that discussions on pros and cons of demonetisation started early 2016: Sources
2:54 pm IST: Cabinet has cleared proposal for India's taking full membership of International Vaccine Institute Governing Council. Cabinet has given ex-post facto approval to MoU signed between India and Serbia in field of IT & Electronics.
2:53 pm IST: Congress leaders RS Surjewala, Ashok Chavan and Sanjay Nirupam among others detained by the police in Mumbai while protesting over demonetisation.
2:49 pm IST: Cabinet has given its approval for amendment in Modified Special Incentive Package Scheme to further incentivize Electronic Sector.
2:47 pm IST: Cabinet has given ex-post facto approval to package for supporting Micro and Small Enterprises. It has also given its approval for introduction of Repealing and Amending Bill, 2017 to repeal 105 Acts besides approving the establishment of Indian Agricultural Research Institute (lARI) in Jharkhand, outlay Rs. 200 crores.
2:46 pm IST: Three persons arrested on Tuesday in Bihar in connection with Kanpur train tragedy sent to six day police remand by Motihari court.
2:36 pm IST: After hearing PIL on Rs 104 crore deposit in BSP's account after demonetisation, Lucknow bench of Allahabad HC gives EC three months to decide on it.
2:30 pm IST: Congress leaders detained in Mumbai, Ahmedabad for anti-demonetisation protests
2:21 pm IST: 2017 Bajaj Pulsar 200NS to be launched in India soon; upcoming model teased
2:12 pm IST: Videocon to exit spectrum-oriented businesses by shutting down services in Punjab from Feb 15
2:06 pm IST: Congress protest over demonetisation in Nagpur, protesters lathicharged.
1:28 pm IST: Mandhana Retail Ventures spurts on Salman Khan's acquittal
1:18 pm IST: Sania Mirza and Barbora Strýcová (Cze) have won the first round in Women's Doubles by 6-3, 6-1 at the Australian Open.
1:12 pm IST: Sushil Kumar Shinde, Shankersinh Vaghela and Bharatsinh Solanki detained by police in Ahmedabad during Congress' protest against demonetisation.
12:54 pm IST: Two member NIA team likely to reach Bihar's Motihari today to enquire about the possible Pakistan link in Kanpur train accident: Sources
12:46 pm IST: Navjot Singh Sidhu files nomination from Amritsar East
12:45 pm IST: Delhi High Court defers hearing till January 25 on CBI plea seeking cancellation of bail to Ex IAF chief SP Tyagi and two others in AgustaWestland case
12:41 pm IST: Congress protest against demonetisation outside RBI office in Guwahati, Former CM Tarun Gogoi also takes part.
12:28 pm IST: Essel Mining Company, Sarda Mines and others move Supreme court seeking permission to resume mining in Odisha.
11:49 am IST: Jodhpur CJM Court acquits Salman Khan in the Arms Act Case.
11:07 am IST: United Kingdom foreign secretary Boris Johnson arrives in India for a two-day visit
11 am IST: Moradabad: A truck rammed into a tempo carrying school children; over 12 children injured; rushed to hospital.
10:53 am IST: Rs 64.38 crore (approx) in Cash,liquor worth Rs 6.23 and over Rs 2 crore worth narcotics seized from 5 poll bound states till January 17, says EC
10:45 am IST: After Azmi, Kolkata's Shahi Imam advises girls to wear decent clothes to avoid rape
10:39 am IST: Swami Prasad Maurya wants the BJP to give tickets to his family members and supporters, which the party is not ready to give: Sources
10:06 am IST: Aircel-Maxis deal-Hearing in Spl CBI court on framing of charges agnst ex-telecom Min Dayanidhi Maran,his brother&2 others deferred to January 24
10:05 am IST: BJP Central Election Committee meet to take place tomorrow at 11 am to finalise remaining list of candidates for Uttar Pradesh and Uttarakhand polls.
9:54 am IST: Rapid Action Force deployed in Bhangar, South 24 Parganas in West Bengal after two people lost their lives. Many were wounded in protests against power project.
9:38 am IST: Naxals killed sarpanch of Masenar village in Dantewada district in Chhattisgarh.
9:38 am IST: Anti-Terrorism Squad (ATS) team reaches Bihar to probe into the Kanpur train accident, after three people were arrested in connection with the case.
9:24 am IST: Jodhpur High Court to pronounce its verdict in the Salman Khan Arms Act Case today.
9:21 am IST: Navjot Singh Sidhu to file his nomination from East Amritsar constituency later today
9:10 am IST: Captain Amarinder Singh to file his nomination from Lambi, today.
9:00 am IST: Earthquake tremors of magnitude 3.7 felt in Aizwal, Mizoram at around 7:16 am. Earthquake tremors of magnitude 3.0 felt in New Delhi at around 7:16 AM.
8:55 am IST: People gather in huge numbers at Marina Beach, Chennai in support of Jallikattu.
8:50 am IST: Supreme Court to hear Sutlej Yamuna Link canal issue today
8:49 am IST: Senior Congress leader Narayan Dutt Tiwari and his son Rohit Shekhar to join BJP later today.
8:20 am IST: BJP gives adjournment motion in Telangana Assembly over shortage of teachers, facilities and other issues in State govt schools.
7:56 am IST: Five bogies of a goods train derailed near Hubli station in Karnataka. No casualties have been reported. Traffic movement has also been affected. Cause of derailment is being probed.
7:52 am IST: Haryana: A car carrying four people met with an accident near Gurugram; all escaped unhurt.
7:33 am IST: RBI Governor to appear before finance panel to brief on demonetisation
7:17 am IST: Congress to hold protest march from Jantar Mantar to RBI office at 12.30 pm as part of Jan Vedna campaign against demonetisation
7:13 am IST: Two International and nine domestic flights from/to Delhi delayed due to fog/operational reasons. At least 35 trains arriving late, eight rescheduled and one cancelled due to foggy weather conditions.