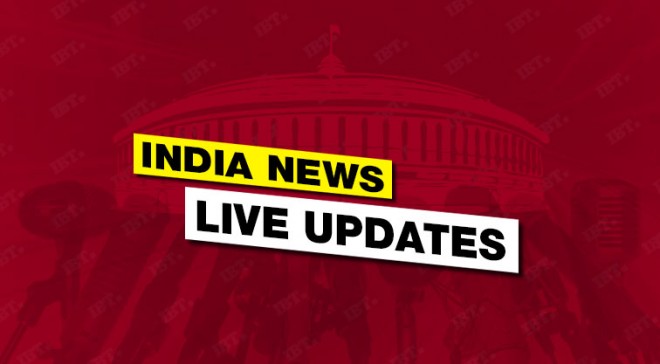 Read breaking news, live updates and much more from International Business Times India:
Jammu and Kashmir: Terrorist killed in Baramulla encounter.
Budget session might be advanced and is likely to begin from January end. The decision will be taken during the Cabinet Committee on Parliamentary Affairs (CCPA) meeting.
PM Narendra Modi will inaugurate the 104th Indian Science Congress at the Sri Venkateswara University in Tirupati, Andhra Pradesh.
Here are all the live updates:
5:27 pm IST: TMC MP Tapas Pal has been produced before the CBI Special Court in Bhubaneshwar in chit fund scam case.
5 pm IST: The BJP office in Kolkata attacked by TMC students' wing after TMC MP Sudip Bandyopadhyay's arrest by CBI in the Rose Valley chit fund scam.
4:30 pm IST: CBI will take TMC MP Sudip Bandhopadhyay to Bhubaneswar tonight.
After Tapas Pal, it's the turn of Sudip Bandyopadhyay. The Central Bureau of Investigation (CBI) arrested the Trinamool Congress (TMC) MP on Tuesday, January 3, for his alleged involvement in the multi-crore Rose Valley group chit fund scam. Read more...
4:22 pm IST: West Bengal Chief Minister Mamata Banerjee will hold a meeting with TMC MPs at the party headquarters in Kolkata at 5 pm. The party will also protest against demonetisation outside the RBI office in Kolkata on January 9 and also hold protests on January 10 and 11 in Delhi. The protests will take place in 10 states, Banerjee said.
4 pm IST: NCP will hold a nationwide protest against demonetisation on January 9, party leader Tariq Anwar has said.
3:50 pm IST: Suspected individual armed with a AK series rifle has been apprehended from Barchola village in a joint operation by 20 Assam Rifles and Tezpur police.
3:20 pm IST: Karnataka Home Minister G Parameswara and Abu Azmi of the Samajwadi Party have been summoned by women's rights body for remarks on Bengaluru molestation.
3:17 pm IST: Trinamool Congress Lok Sabha MP Sudip Bandyopadhyay has been arrested by the CBI for his alleged involvement in Rs 60,000 crore Rose Valley group chit fund scam.
3:04 pm IST: A 5.5 magnitude earthquake hit the India-Bangladesh border region. Tremors were felt in Assam and Tripura and other states located in the north east of India.
1:25 pm IST: Security forces cordoned off Sirender and Kota-Satri forest areas of Bandipora district of Jammu and Kashmir after gunshots were heard.
12:36 pm IST: At least 6 die, 30 critical after consuming toxic alcohol in West Bengal's Burdwan district
12:31 pm IST: The prisoner, who was arrested after he fled the Central Jail in Buxar, attempted suicide. He has been admitted to a hospital.
12:21 pm IST: The Election Commission is expected to announce the poll dates for the five states — Goa, Punjab, Uttar Pradesh, Uttarakhand and Manipur — on Wednesday.
12:08 pm IST: The Economic Survey will take place on January 31. The General Budget is on February 1. The first part of the Budget Session is from January 31 to February 9. The Presidential address to the Joint Session will take place on January 31.
11:59 am IST: "Efforts to bring back Dawood Ibrahim are on," Home Minister Rajnath Singh said.
11:51 am IST: Delhi HC adjourns hearing over cancellation of bail to Former Air Chief SP Tyagi for next Monday (Jan 9th).
11:48 am IST: SC seeks response from CBI, ED on PIL alleging that journalists were paid off Rs 50 crore for writing in favor of AgustaWestland deal.
10:54 am IST: One out of the five prisoners, who had escaped from Central Jail in Buxar on December 31, 2016, has been arrested.
10:38 am IST: Karnataka State Minister for Cooperation HS Mahadeva Prasad passed away after suffering a heart attack.
9:07 am IST: The Goa Police has detained two people with suspicious documents and taken them to the Goa Medical College for medical examination
8:32 am IST: At least one person was killed after a car belonging to Uttar Pradesh state minister Om Prakash Singh hit a handcart in Hardoi on Monday night. The driver has been arrested and a probe is underway. Liquor botles were also recovered from the car that has now been taken into custody.
8:31 am IST: Budget 2017: Is the Budget Session of Parliament being advanced to end of January?
The central government is likely to advance the Budget 2017 Session of the Parliament to the last week of January after having already advanced the date to February 1 recently. The decision on the final date will be taken during a meeting of the Cabinet Committee on Parliamentary Affairs (CCPA) at 11 am on Tuesday. Read more...
7:57 am IST: A leopard entered a farmhouse in West Bengal's north Dinajpur district. It was later captured by the Forest Department officials.
7:20 am IST: GST Council meeting is scheduled to take place today.
7:17 am IST: The Cabinet Committee on Parliamentary Affairs (CCPA) will meet at 11 am to finalise the date for the forthcoming Parliament session.
7:14 am IST: At least 55 trains from/to Delhi are delayed while 22 trains have been rescheduled and six cancelled due to fog in the capital. Seven international and six domestic flights from/to Delhi are delayed while two domestic flights have been cancelled.
5:05 am IST: Jammu and Kashmir: Terrorist killed in Baramulla encounter
At least one unidentified terrorist was killed after an encounter between terrorists and security forces in the Sopore area of Jammu and Kashmir's Baramulla district in the wee hours of Tuesday. Read more...