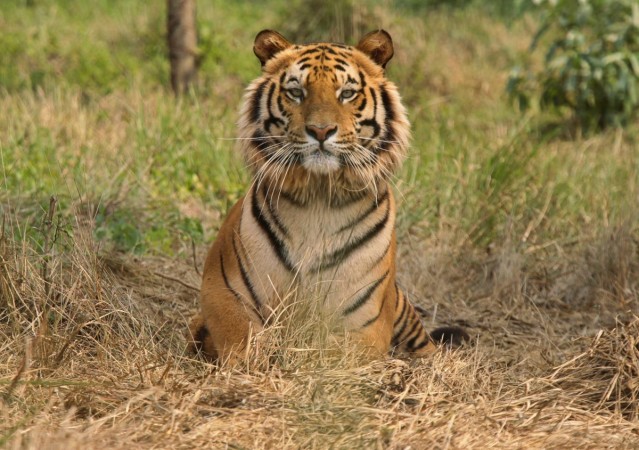 India, which is home to more than half the world's tigers, is set to help replenish the numbers of the big cat in countries where its population has dipped. Cambodia, where the tiger was recently declared to be "functionally extinct," is now looking at India to reintroduce the striped animal to its jungles.
Indian Environment Minister Prakash Javadekar said on Thursday India was "willing to cooperate with any country, which does not have or has lost its tiger population," and to "help non-tiger countries to create tiger habitat, capacity building and training," at the close of the 3rd Asian Ministerial Conference on Tiger Conservation in Delhi. Representatives of 13 nations agreed on the New Delhi Resolution to work on recovery of tiger populations as well as on trans-boundary coordination to conserve tigers.
Cambodia has reportedly made a request that tigers be relocated to its jungles from India. "We are speaking with India for two male tigers and a couple of female tigresses along with guidance on tackling poaching and better surveillance," Omaliss Keo, director of the department of wildlife and biodiversity in Cambodia, was quoted as saying by NDTV. The Hindu cited an official of Cambodia's forestry ministry stating the country was "in talks for for six female tigers and two males." The Southeast Asian nation is reportedly expected to make a formal proposal to India by this year.
Last week, the World Wildlife Fund (WWF) said there were "no longer any breeding populations of tigers left in Cambodia, and they are therefore considered functionally extinct," while citing poaching and low prey density as some of the main reasons for the phenomenon.
These very factors have made tiger conservationists sceptical about talks of transferring tigers to Cambodia.
"What makes them think that the Indian tigers will be well-protected when they are taken to Cambodia?," asked Bhavna Menon, a project coordinator with the Last Wilderness, an organisation that works for wildlife conservation, during a conversation with the International Business Times India.
"The Indian tiger species is also different from the Cambodian species. Though cats are adaptable, we cannot be sure they will be able to adjust in the Cambodian jungles," she said. "The introduction of the Indian tiger may also affect the local ecosystem in the Cambodian forests," she warned.
The global tiger population rose for the first time in a century to reach 3,890, the WWF and the Global Tiger Forum (GTF) announced this month, with India itself seeing a 20 percent rise in the cat's numbers to nearly 2,500.