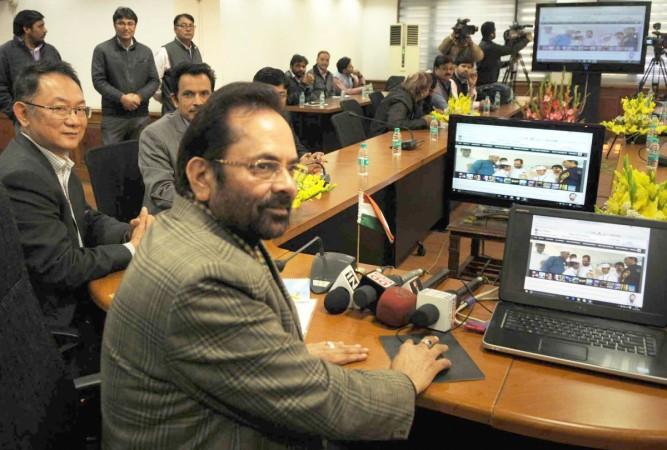 Minister of State (Independent Charge) for Minority Affairs Mukhtar Abbas Naqvi on Tuesday launched a quadrilingual website for Muslims to register online for Hajj and to receive information regarding the annual Islamic pilgrimage to Mecca. The website — www.haj.gov.in — is available in English, Hindi, Urdu and Arabic.
Matters pertaining to Hajj — from preparation to security — were transferred from the Ministry of External Affairs to the Ministry of Minority Affairs with effect from October 1, 2016. This is why the ministry has made all the arrangements for Hajj 2017, and this website is part of that arrangement.
A statement from the ministry quoted Naqvi as saying that not only would the website allow online registration for Hajj, but also provide several other facilities. "Besides giving information about the Ministry of Minority Affairs, the Hajj Department, Hajj pilgrimage, rules and regulations on Hajj, the Hajj Committee of India (HCOI) and private tour operators (PTO), the website also has Dos and Don'ts during Hajj and also a film about various aspects of the pilgrimage," it said.
The website also provides location maps of state Hajj Houses, location maps of accommodation sites in Mecca and Medina, and useful links to the website of the Hajj Committee of India and the Consulate General of India, Jeddah.
Interestingly, the statement also claimed that the website was only trilingual — available in English, Hindi and Urdu, with no mention of Arabic anywhere. Maybe someone can point this out through the feedback portal the website hosts.
Hajj 2017 preparations
The HCOI will start receiving application for Hajj 2017 from January 2, 2017. And, in preparation for the annual pilgrimage, Naqvi said: "Discussions have been held with officials of Civil Aviation Ministry to provide aircraft with all modern facilities for Hajj pilgrims."
On Tuesday, Naqvi also had a meeting with Saudi Arabian Ambassador to India Saud Mohammed Alsati and discussed issues concerning Hajj 2017.
Related
Hajj 2016: More than 2 million Muslims gather at Mount Arafat for the important ritual [PHOTOS]
'Evil' Saudi royals don't deserve to manage Hajj, says Iranian leader Khamenei
Hajj 2016: Stunning aerial view of the Kaaba before the start of the annual Islamic pilgrimage to Mecca
Saudi Arabia blames Iran for 'blocking' Hajj pilgrims, says Tehran officials must answer to God