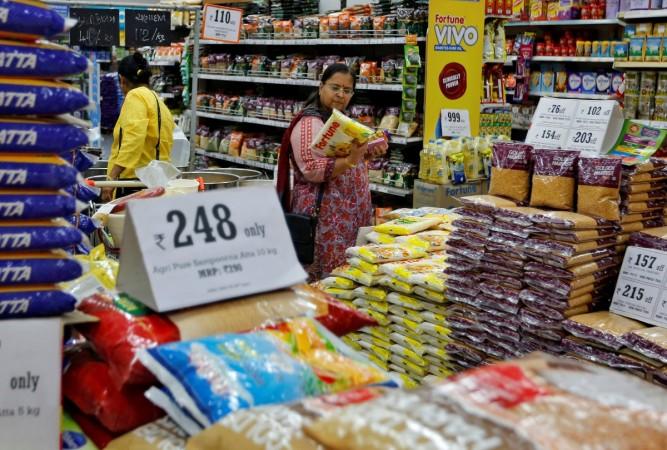 Indian inflation is likely to have cooled to a 16-month low in November, according to a Reuters poll, as food and fuel prices fell, supporting the Reserve Bank of India's decision to keep interest rates on hold at a policy meeting last week.
The poll of 40 economists predicted retail inflation sank in November to 2.80 percent from October's 3.31 percent. Forecasts in the poll, taken between Dec. 4-7, ranged between 2.26 percent and 4.00 percent.
If the consensus is realised, the November data will not only mark inflation below the RBI's medium-term target of 4 percent for a fourth straight month but also be the first time since July 2017 it was below 3 percent.
"We expect headline CPI inflation to have slowed...during November in a broad-based manner. Food prices are likely to have continued to remain benign. Transportation costs are also estimated to have softened due to a fall in global crude oil prices," said Shashank Mendiratta, India economist at ANZ.
"Core inflation should have moderated alongside, reflecting easing demand-side pressures in the economy. The softer headline CPI print should provide comfort to the central bank."
Asia's third-largest economy is slowing, dragged down by lower consumer spending and farm growth and that should also remove any pressure for an increase in interest rates.
With energy and food prices, which account for a major chunk of India's consumer price index basket, falling sharply, the trend of relatively stable inflation over the past two years is expected to continue.
While falling food costs is good news for consumers, plunging prices of some vegetables, in a country with a chronic supply problem that is often exacerbated by unpredictable monsoons, is adding to the woes of farmers.
The crash in farm prices led to tens of thousands of farmers protesting in the national capital last month, likely worrying for a government going to the polls in six months.
Farm prices could rise if the government steps in to buy crops at higher prices, known as minimum support price (MSP), something economists had said could be inflationary.
"The upside risk related to MSP has not materialized as anticipated," said Tushar Arora, economist at HDFC Bank.
Food inflation has eased recently, helped by bountiful crop supplies and sales of subsidised foodgrain to nearly two-thirds of India's 1.3 billion population.
"It is food prices that moves the needle on inflation," said Arjun Nagarajan, economist at SBICAP Securities.
"What we don't know, is whether the demand slack is the dominant variable that is bringing food inflation down, or whether the supply glut is the dominant variable that is bringing it down. For now, it seems that the supply glut is the more dominant variable that is bringing the prices down."
Separately, the poll showed industrial output rose at an annual 5.7 percent pace in October, up from September's 4.5 percent. It was boosted by infrastructure production - the output at eight core industries - which rose 4.8 percent from a year ago.