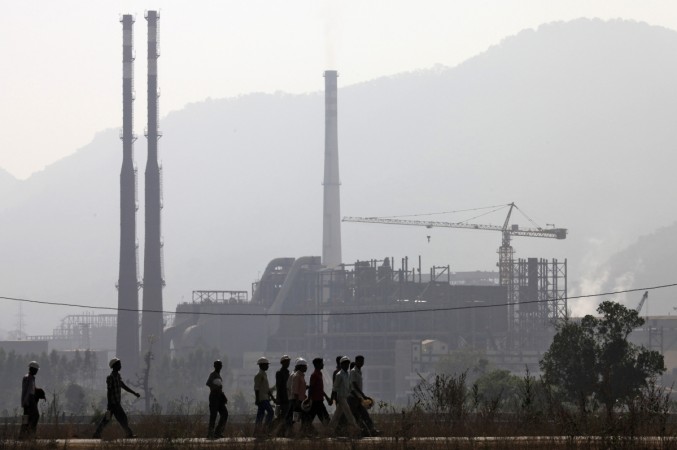 In a situation where capital utilisation by larger manufacturing companies is at 75 percent currently, and banks refusing to lend more to debt-saddled corporate, fresh investments have been coming at a premium.
New investments from the corporate sector hit a new low in 2016-17. The combined capital expenditure (capex) by the country's top 1,000 non-financial firms, in terms of revenue, was up just 5.8 per cent in fiscal 2017, growing at the slowest pace since 1992. The previous low of capex growth was in 1999-00, after the dotcom bubble of 2000.
In all these, the top 1,000 companies made fresh investments of Rs 2.07 lakh crore in the last fiscal year, down from Rs 2.9 lakh crore in 2015-16, and an all-time high of Rs 5.7 lakh crore in 2013-14.
An analysis of a common sample of listed companies suggests the investment drought is being led by domestic private sector companies, in complete contrast to their behaviour in the past, financial daily Business Standard said in a report on Saturday.
The combined capex by listed Indian private sector companies grew at a record low of 5 per cent in 2016-17, against 9.4 per cent, and 5.3 per cent growth in capex reported by listed central public sector enterprises (CPSEs) and Indian subsidiaries of global multinationals (MNCs). This is the slowest growth in capex by the private sector companies in the last 12 years, the report said.
Analysts attributed the decline to a poor demand in the economy and reluctance by banks to lend to new projects, Business Standard said. "It's in line with a near-collapse in bank credit growth in the last fiscal year. Public sector banks have put a virtual freeze on fresh lending to risky projects, fearing bad loans hitting funding for large industrial projects," G Chokkalingam, founder & managing director, Equinomics Research & Advisory, told Business Standard.
The incremental capex by listed private sector companies nearly halved to around Rs 1.1 lakh crore in the last fiscal year, against Rs 2.15 lakh crore a year ago. The amount is the lowest in 10 years and a third of record high reached in 2011-12.
In contrast, private sector companies have accounted for 80 per cent of all incremental capex by listed non-financial and non-oil public sector undertakings (PSUs) in the past decade. In absolute terms, private sector companies have cumulatively invested around Rs 26 lakh crore in fixed assets (net of accumulated depreciation) in the past decade, against Rs 32 lakh crore invested by all listed companies during the period.
The analysis is based on the annual finances of a common sample of 728 companies that are part of BSE 500, BSE MidCap and BSE SmallCap index. The sample excludes banks and financials, and public sector energy companies such as Oil and Natural Gas Corporation, IndianOil and Hindustan Petroleum, the Business Standard report said.
Fiscal 2017 figures were taken based on unaudited financials, which may not include subsidiaries' data of some companies, while capex refers to annual incremental growth in fixed assets defined as gross block minus accumulated depreciation plus capital work in progress, the paper said.