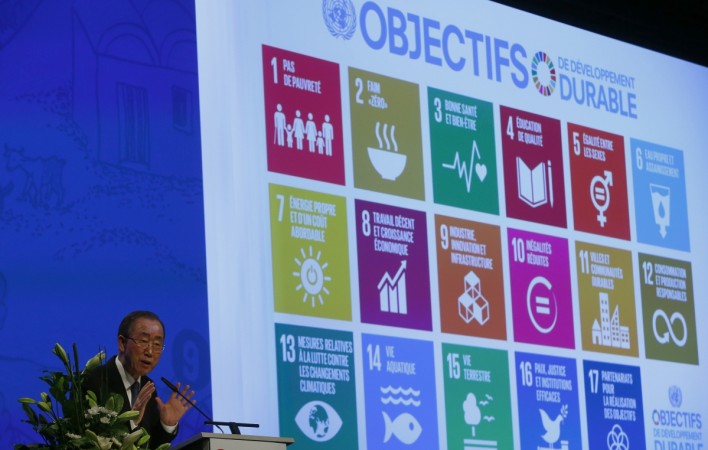 India Inc. is set to formally adopt the United Nations' (UN) agenda for the world's sustainable development and the 17 goals identified for its implementation in Mumbai Saturday, the Press Trust of India.
Top 50 domestic corporate leaders such as the Tata Group, the Aditya Birla Group, Reliance, Vedanta, the Adani Group and public sector behemoth Oil and Natural Gas Corporation (ONGC) and several MNCs will officially adopt the Sustainable Development Goals 2020 (SDGs).
The meeting, to be inaugurated by Union Environment Minister Prakash Javadekar, is uniquely studded with business tycoons as it will also be the first time UN is involving private and public sector companies globally to drive its development agenda.
Incidentally, India Inc. will be the first in the world to adopt the SDGs and implement them at their companies.
UN Global Compact is the implementing agency for SDGs. "The leaders of conglomerates will discuss ways and means to push the 17 SDGs, and their underlying targets, in their way of operations," PTI quoted Pooran Pandey, head of UN Global Compact Network India (GCNI), as saying.
SDG aims at broadening the horizon for growth and transformation under the theme of people, planet and prosperity.
"What sets apart the SDGs from MDGs (Millennium Development Goals)—a precursor development agenda implemented from 2000 to 2015—is that the SDGs will be evaluated, monitored and reported in a time-bound manner," Pandey told the news agency. "MDG-2015 was just a commitment to achieve 8 goals with none of the aforementioned actionable demands. Its success globally averaged around 50 percent."
GCNI helps in aligning stakeholders' practices towards the 10 universally-accepted principles of UNGC in the areas of human rights, labour, environment and anti-corruption.
PTI reported that the GCNI currently ranks among top 10 country level networks out of 103 local networks. It has a pan-India membership of 230 organisations and 348 signatories. Globally, the UNGC has over 12,000 members out of which over 8,000 are companies with presence in over 165 countries.
The just-concluded eight MDGs were adopted following the Millennium Summit of the United Nations in 2000, while the 17 SDGs were adopted at the Copenhagen Consensus in September 2015.
17 Sustainable Development Goals
No Poverty
Zero Hunger
Good Health and Well Being
Quality Education
Gender Equality
Clean Water and Sanitation
Affordable and Clean Energy
Decent Work and Economic Growth
Industry, Innovation and Infrastructure
Required Inequalities
Sustainable Cities and Communities
Responsible Consumption and Production
Climate Action
Life Below Water
Life on Land
Peace Justice and Strong Institutions
Partnerships for the Goals