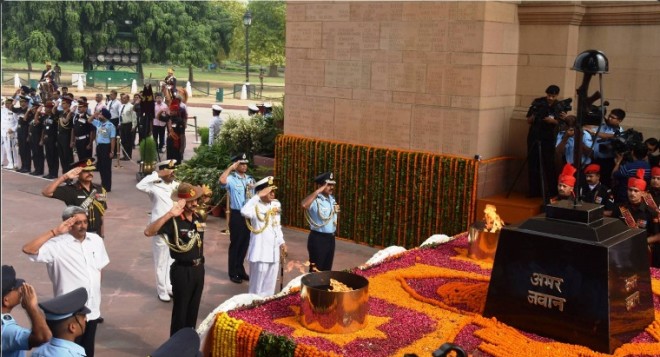 As tensions escalate in the aftermath of the Uri attack in Jammu and Kashmir, data released by the Ministry of Home Affairs reveals that more than 2,000 people have been killed and about 6,000 injured in 136 terrorist attacks during the past 27 years.
Analysis of the data released by the ministry regarding terror attacks reveals some interesting patterns and inferences:
• Civilians are eight times more likely to be targeted in terror attacks as compared to VIPs as 121 terrorist attacks targeted civilians and 14 attacks were on VIPs.
• 17 is the maximum number of attacks ever recorded in a single year in 2004 killing 170 people and injuring more than 350.
• Punjab – not Jammu and Kashmir – has witnessed the most number of terror attacks. Jammu and Kashmir (J&K) and Delhi have witnessed 27 and 18 attacks, respectively, during the same period.
Since the latest attack in Uri that killed 18 soldiers, there has been calls from several quarters to give Pakistan a befitting reply. Lt Gen BS Jaswal (retired), former general officer commanding-in-chief of the Northern Command of the Indian Army, advised the government to "strike at certain places" as Pakistan repeatedly strikes terror in India using proxies.
But some experts such as Prakash Singh, former Uttar Pradesh director general of police (DGP) who was also involved with the police reforms, question the preparedness of our security forces in effectively combating terrorism.
"There is no clear-cut policy to fight terrorism on Indian soil. The first response to a terrorist crime comes from the local police but the police force is in terrible shape across the country. As long as the reforms are not carried out, as per the directives of the Supreme Court, the force will remain handicapped," Singh was quoted as saying by IndiaSpend.
Even though India exports body-protection equipment to more than 230 security forces in over 100 countries, it was revealed in a report by DailyO that the Punjab Police Special Weapons and Tactics (SWAT) teams were seen fighting wearing nothing more than cotton T-shirts while countering terrorists.
"Most of our police force in states is equipped for anti-riot protection, not anti-terrorist operations," an NDTV report quoted Manoj Gupta, chairman of Kanpur-based MKU, which is India's largest manufacturer of body armour, as saying. "There has to be deep thinking over this by policy makers."
Even the elite National Security Guard commando unit, also called the Black Cats, was symptomatic of certain infrastructural and budgetary deficiencies.
Until the 2008 terror attack in Mumbai, the NSG had only one base camp in Manesar, Haryana. In 2009, four NSG regional hubs were created in Mumbai, Chennai, Kolkata and Hyderabad. The last was set up in Gujarat in 2014.
It was also revealed through a MailToday investigation that in 2012, the NSG received barely any helicopter-borne training due to the lack of infrastructure.
"During the last six months, no heli-borne training could be conducted due to non-availability of the helicopter," a letter written by the then chief of NSG to the minister of state for home read.
Similarly, special police forces such as Anti-Terror Squads (ATS), run by state home ministries, to combat terror attacks are either inactive or under-equipped in most states, according to IndiaSpend. Only Maharashtra (Mumbai) has an anti-terror unit — Force One.
It is, therefore, somewhat ironical when India postures and projects itself as acting tough and committed to combating terrorism, but its actions and policies suggest that it may be endangering the lives of its civilians and security forces without adequate preparedness.