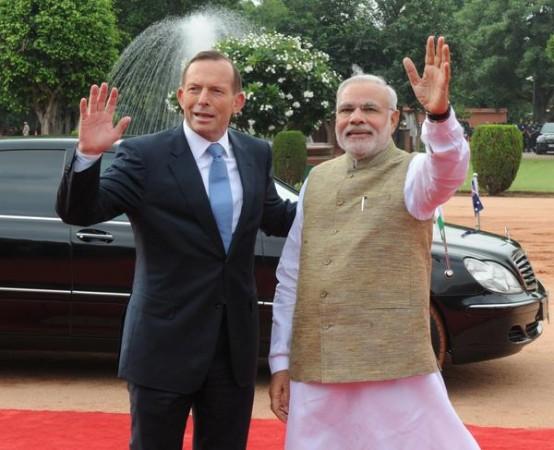 Australian Prime Minister Tony Abbott on Friday signed the nuclear deal with Indian Prime Minister Narendra Modi, clearing the way for uranium sales to India. With this, the government hopes to increase its nuclear capacity to 63,000MW by 2032 by adding 10 more reactors at an estimated cost of $85 billion, reported Reuters.
The mega deal will allow India to set up more nuclear power stations. Currently, it has 20 small nuclear plants with a capacity of 4,780MW -- a mere 2% of its total power capacity, according to Nuclear Power Corporation of India.
Abbott met Modi in New Delhi and finalised the deal to allow the export of uranium to India. Both nations had initiated the negotiations on uranium sales in 2012 after Canberra lifted a long time ban on exporting ore to New Delhi.
Australia is world's third largest uranium producer that has previously barred exports to India as the country did not sign the global non-proliferation treaty.
However, Abbott on Thursday assured peaceful cooperation to India in power generation. "India has an absolutely impeccable non-proliferation record and has been a model international citizen," Australian Prime Minister Tony Abbott told reporters in Mumbai.
"Our job is to try to ensure we act in accordance with our own standards of decency and that's what we intend to do," he added.
Australia's decision to start nuclear programme came after US agreed in 2008 to support India's civilian nuclear programme.
Australia has no nuclear power plants of its own but is one of the world's top exporters of uranium, mining 7,529 tonnes of uranium in fiscal 2011/12, worth $782 million, according to government figures.
Meanwhile, Indian coal reserves have been failing to meet targets and in additionally, many hydro power projects have been stopped due to environmental issues and protest by locals fearing impact.
Nearly 400 million Indian are still without access to electricity, according to a World Bank report.
Nuclear Power in India:
According to a report by World Nuclear Association, India aims to fulfill 25% of supply demand through nuclear power by 2050. Due to trade bans and lack of uranium, India has been developing a nuclear fuel cycle to exploit its thorium reserves.
"India's power reactors to the mid-1990s had some of the world's lowest capacity factors, reflecting the technical difficulties of the country's isolation, but rose impressively from 60% in 1995 to 85% in 2001-02. Then in 2008-10 the load factors dropped due to shortage of uranium fuel," according to World Nuclear Association report.
Koodankulam nuclear power project in Tamil Nadu has been running behind schedule for over five years following power crisis in Tamil Nadu.
Similarly, Jaitapur nuclear power plant in Maharashtra has been struck following protest due to the fear of earthquake among residents. The project is untested, expensive and poses a risk to health and land, according to Greenpeace.
Hence, due to lack of technology and fuel for projects, Indian nuclear Industry has suffered to produce electricity.
Indian companies keen on mining uranium in Australia:
Prior to formal agreement, Indian companies had already expressed interest in mining uranium from Australia. "Indian companies have expressed interest and they have visited some of the mines," said Parag Shirname, Trade & Investment Commissioner -- South Asia, Government of Queensland, to The Hindu.
Shirname added that the country has 165.95 million tonnes of reserves with a total uranium oxide content of 107,000 tonnes.
Recently, Adani also invested in a mining project in Queensland. He bought Australia's coal mine royalty rights from Linc for $145 million. After the inking of the nuclear deal between India and Australia, Adani said the company looks forward to a long-term future with Australia.